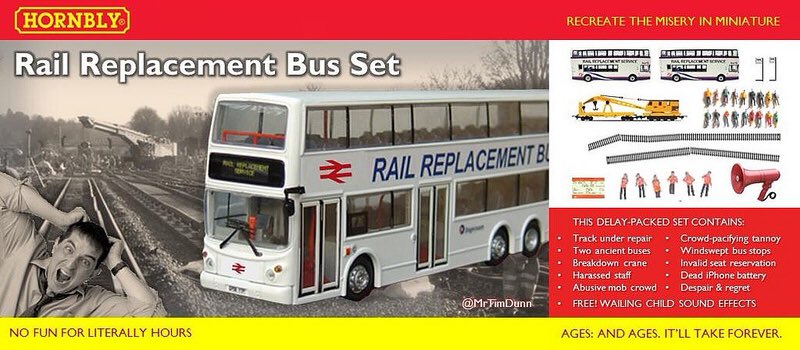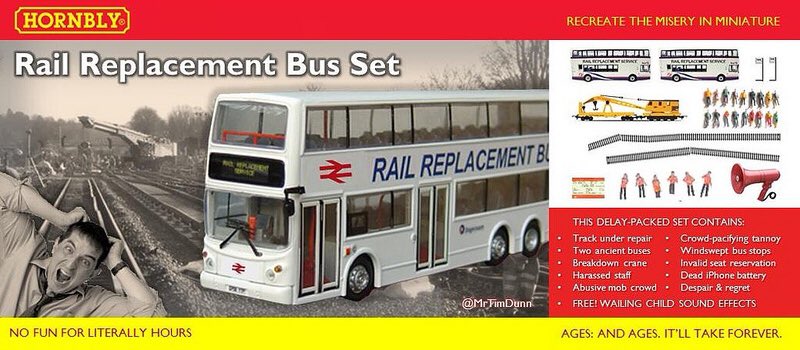 EXCLUSIVE
By Casey Jones, Railways Correspondent
Model railway giant Hornby has celebrated Greater Anglia's franchise win with a special Rail Replacement Bus Set.
The limited edition double-decker bus can be placed next to any Greater Anglia station – providing hours of playtime fun as you imagine frustrated travelers cramming on board for a trip to London.
Each set comes with two buses, a hate mob of passengers, harassed staff, a section of broken track – and even a tannoy so the mob can be controlled.
A Hornby insider told the Suffolk Gazette: "Ever since Frank Hornby started the company in 1901 we have sought to produce the most lifelike rail models in the world.
"Greater Anglia is quite a challenge, however, because it does not have many trains that actually work properly.
"We tried recreating antiquated units that broke down all the time, but couldn't do it.
"Then our product team came up with the idea of a Rail Replacement Bus Set, given that Greater Anglia seems to use so many of them – especially at weekends."
A real rail passenger said: "We have been pretty fed up with Greater Anglia and their buses, and were looking forward to the franchise ending. But inexplicably they won the franchise renewal which began this week."
Lucky owners of the Rail Replacement Bus Set will have great fun pushing the smelly bus, which has special windows that mist up, around the living room carpet.
They can imagine driving all the way from Ipswich into odd parts of Essex like Billericay to pick up passengers who mostly wear baseball caps and speak in a wannabe East London accent.
Then they push the now-crammed bus along to Ingatestone, where they let the grumpy passengers off because they might actually be able to catch a train from there.
The limited edition box sets, priced at £19.99, are available now in time for Christmas from all good toy shops. And some bad ones.
Rail Replacement Bus Set Image: @TimDunn