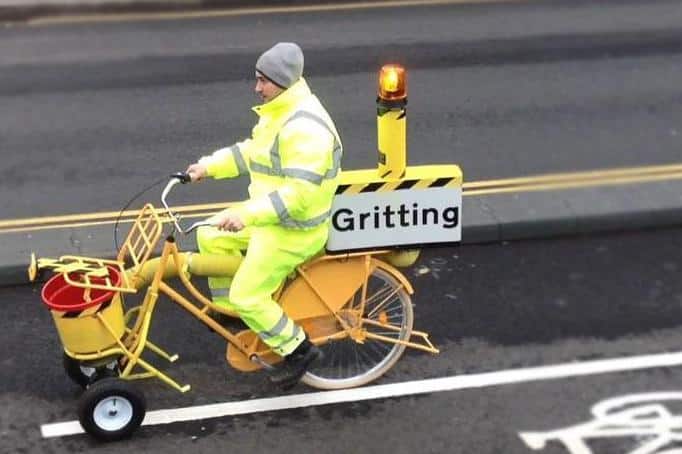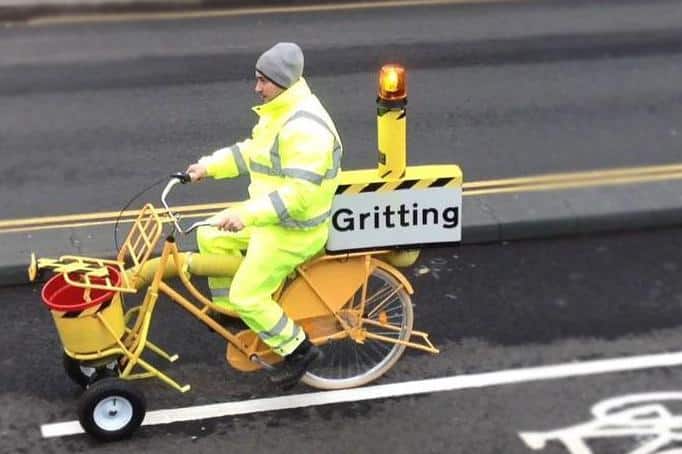 There is growing concern that Suffolk County Council has cut too much of its budget for gritting the roads.
Motorists now fear the county's highways will be too dangerous to use this winter.
Gone are the familiar gritting lorries that sweep across Suffolk's roads, keeping them clear of ice.
Instead 27 new bicycle gritters have been purchased to try to do the same job at a fraction of the cost.
Delighted highways chiefs say they have saved over £5 million by selling off the lorries.
But they have refused to say how long it now takes staff on the yellow bicycles to clear the same routes.
Housewife Lorraine Fisher, from Martlesham near Ipswich said: "I saw some poor bloke pedaling furiously up the Bealings hill today spreading grit from his little basket on the front.
"He had to get off and push when he was half way up.
"And when he reached the top he had to turn around and go back to the depot to refill with grit.
"It must have taken him all day just to do a couple of miles – I really can't see how this is cost effective at all."
Motorist Paul Eaton added: "I got stuck behind one of these when it was gritting the A140. It was very dangerous, even if he did have his little yellow light flashing.
"By the time they have gritted all the roads, it will be summer."
A county council spokesman said: "We are very pleased with our fleet of gritting bikes.
"They are much cheaper and greener than lorries. The only drawback is our drivers are not so keen on having to ride a bike."