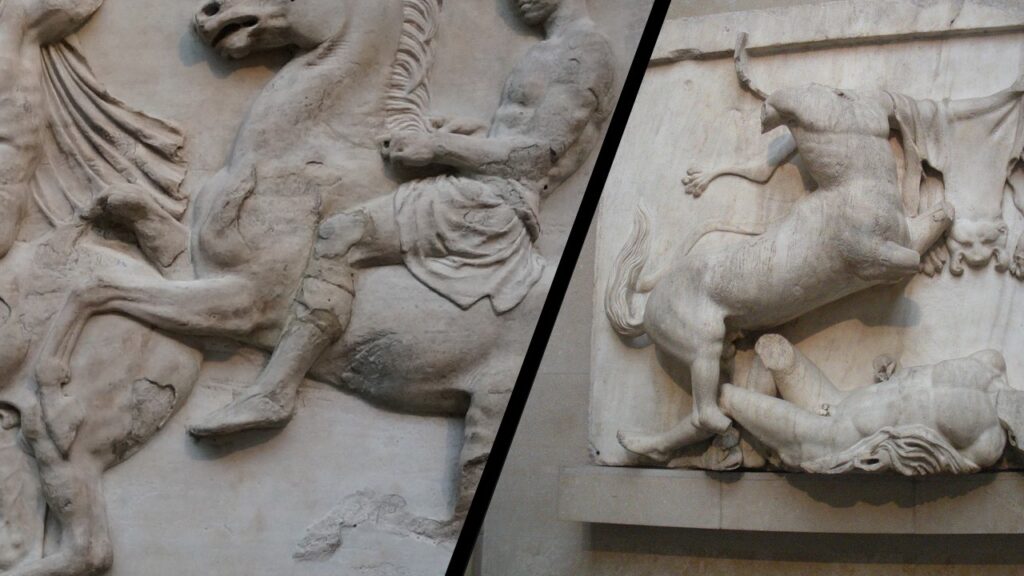 The Elgin marbles – a smallish bag of Greek glass marbles – made and played with by sculptor Phidias and his assistants around 447–438 BCE – are set to be returned to Greece after 200 years in the British Museum.
The Elgin Marbles, also known as the Parthenon Marbles, are kept in a little hessian bag with a drawstring. The bag contains all the usual marbles, biggies, chinas, cats' eyes, comets, and clearies. and would be considered an impressive haul when confiscated by a teacher from any marble-playing schoolboy – English or Greek.
Gimme Marble back
Following discussions between former poshboy Tory Chancellor, Georgios Osborne (representing Great Britain), and Greek prime minister, Kyriakos Mitostakis (representing the ancient Greeks), an agreement has been thrashed out to 'loan' the bag of Elgin marbles back to Greece in exchange for a handful of conkers, allegedly stolen by Pytheas of Massalia, a Greek geographer and explorer, whilst on holiday in Britain in 325 BC.
The controversial bag of Elgin marbles was stolen from the Parthenon in Athens in 1801 by a Scottish – repeat Scottish – politician, Thomas Bruce, 7th Earl of Elgin – hence the marbles' nickname. Bruce sold the marbles to the British government in 1816 and their ownership was later transferred to the British Museum, which has coveted them ever since, and whose staff occasionally get them out to play with during tea breaks, etc.
Tit for Tatton
Osborne, a former Member of Parliament for Tatton, Cheshire who once claimed £100,000 from the public purse as 'mortgage interest expenses', said of the deal "They can have the marbles, but there's no way they're taking the manhole cover that we've been playing them on. That's staying. And we want the conkers back first."