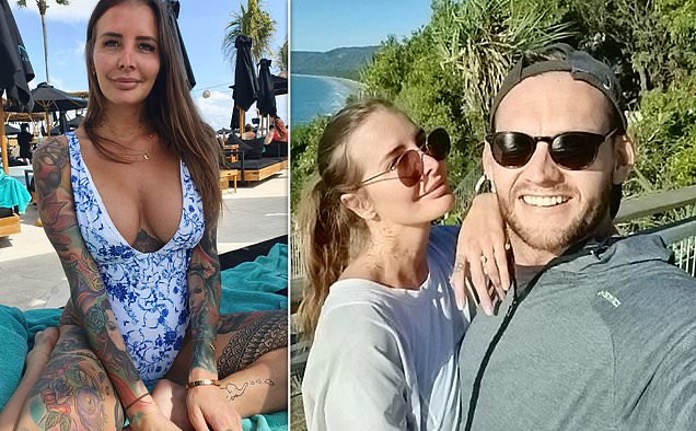 A strange sex-witch (Deformed porn star) with two vaginas ('fannys') has told the world's press that she uses one of them for porn, and the other for her husband, which poses the question – what does she use to piss out of?
Aussie deformed porn star, Brianna Paradise – 'doublesnatch' to her friends – first discovered her second fanny when she hit puberty at thirteen. "I'd just stuck a tampon up my mut, but it was all a bit uncomfortable because I'd just started using them, so I reached up there to adjust it a bit, but it was gone! ''Struth!' I thought, 'Where the hell has that gone?' I thought to meself."
In actual fact, her tampon had not disappeared but was snuggly inserted into fanny #1.
Having two vaginas has a clinical name which is something like 'uterus didypylidas' but I don't think that is the correct spelling. Women with the condition usually have two uteruses and two sets of ovaries, which doesn't do anything to help keep the weight down, but does make it easier to conceive twins – one would assume?
Double-sided map of Tasmania
Paradise's claim that she saves one of her Mappa Tassies exclusively for her husband is somewhat undermined by one of her 'Only Fans' videos which some of the lads back at the SUFFOLK GAZETTE office watched (for research purposes only) in which she appears to take three big cocks simultaneously, and none of them are in her mouth. You work it out.
Doublesnatch is currently earning about $AU1,500 a week from her porno 'Only Fans' website, and that's on top of her income from her successful 'Doubleknicker' website which sells sexy lingerie and sex toys for women with two fannys, and men with two cocks (is that even a thing?)
For those readers wondering if Ms. Paradise's fannys are positioned one behind the other or side to side, we recommend visiting her website where everything is revealed in minute detail – according to the lads in the office that is.