Norwich-based Colman's Mustard has ended all promotional giveaways with the Suffolk Gazette – amid a campaign to stop firms advertising with some newspapers over "divisive" coverage of Norfolk migrants.
Colman's regularly gave away free jars of its tangy yellow condiment via the hugely popular Suffolk paper, but there would be no more "for the foreseeable future".
The news comes just days after toy maker Lego confirmed it had ended its promotion with the Daily Mail.A Colman's insider, speaking from the company's HQ in Norwich, said: "Suffolk Gazette coverage of Norfolk issues, particularly the plight of many Norfolk peasants trying to get into Suffolk have, at times, been divisive, over-hyped and hate-filled."
The firm highlighted several recent Suffolk Gazette stories that promoted bigotry and hate, including:
– Norfolk trolls using Suffolk-bound trains to sneak into the county
– An archeological dig revealing tools were used in Norfolk as far back as 1946
– The building of a 12-foot wall along the Suffolk border to keep Norfolk migrants out
"These are just some of the hate-filled stories in the Suffolk Gazette," the Colman's insider added. "If you type in Norfolk in the paper's search bar there are dozens more."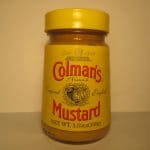 Colman's, which has been making mustard in Norwich since 1814, had responded to the shadowy Stop Funding Hate group, which aims to shame big companies into taking away commercial support from certain newspapers.
Suffolk Gazette editor Simon Young was upbeat. "Our readers are extremely supportive of our stance on Norfolk migrants trying to get into our county. We stand up for the hard-working citizens of Suffolk, and will not be bullied by a mustard maker from Norfolk."
He admitted the loss of Colman's from the paper's commercial accounts would hit hard, particularly just before Christmas, but reminded readers they can support the paper by using the 'Buy Me a Beer' link below.