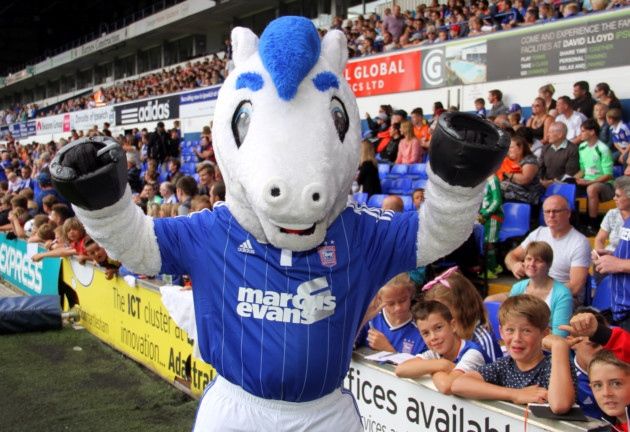 Just when it seemed things couldn't get any worse, Ipswich Town fans are today reeling from news that club mascot Bluey has contracted equine flu.
With the team bottom of the table and staring relegation in the face, and after losing 3-0 to arch-rivals Norwich on Sunday, Bluey's illness will be hard to take.
He fell ill on Monday and was immediately sent home from Portman Road in case his pal Crazee caught the disease.
The outbreak of equine flu has halted all horse racing across the country, and four horses have so far contracted it in Newmarket.
But the news about Bluey will shake the racing world as well as devastate Ipswich fans.
Crazee will now have to undertake the important mascot duties alone for the home match against Derby tomorrow night.
Ipswich vet Lorraine Fisher, 34, said: "I was called to Portman Road after Bluey began sneezing in the club offices.
"It soon transpired he had equine flu and has now been sent home in quarantine."
Ipswich Town owner Marcus Evans has inquired about Bluey's condition while also checking on the latest prices for horse meat.
"For some reason, he keeps referring to the poor thing as Gluey," a club insider pondered.