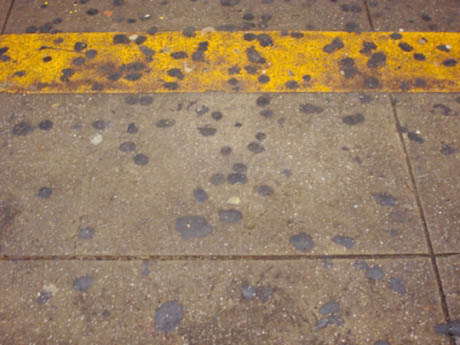 Ipswich will be granted up to £70,000 to clean all the gum stains from streets. But after thorough investigation and planning, it is estimated that cost could reach up-to 3 trillion to remove all the gum stains from the streets of Ipswich.
We can either fix the homeless problem or remove all the gum. Either way Ipswich will "clean up" the streets. How did all the gum stains end up on the streets to the point where it is a really big concern?
Throw Back
When Alfred Hitchcock was filming the movie The Birds, he gave all 120,000 birds gum in order to spit at the main characters. Unfortunately, the scene never made it in the final cut because they discovered that gum is highly addicting to birds the same way heroin is addicting to humans.
When filming was over, all the birds had to check into rehab because they couldn't quite kick the habit. This is how all those gum stains ended up in the town of Ipswich. They were spitting it on the ground after they were done chewing it.
The great war over gum stains:
There was a war on gum because all the birds in the UK were going through 100 packs per hour. This issue effectively disrupted the supply chain. It was known as "The Great Gum Prohibition of Britain."
Lorraine Fisher, 34, an Ornithologist stated:
"You can burn up to 12 calories an hour when chewing gum. This is one reason why birds like gum so much.
They want to stay thin so they don't feel too heavy when flying at high altitudes."
Due to the shortage of gum, citizens of the UK turned to chewing tobacco. Throat cancer spiked due to this issue.
The city will receive funding for the next 5 years.
So after this implementation, will it be illegal to spit your gum on the ground? What new laws will be implemented by the city?
The British Film Institute announced that they will be shooting a sequel to "The Birds" in Ipswich.
Let's just make sure to prohibit the use of gum on set.