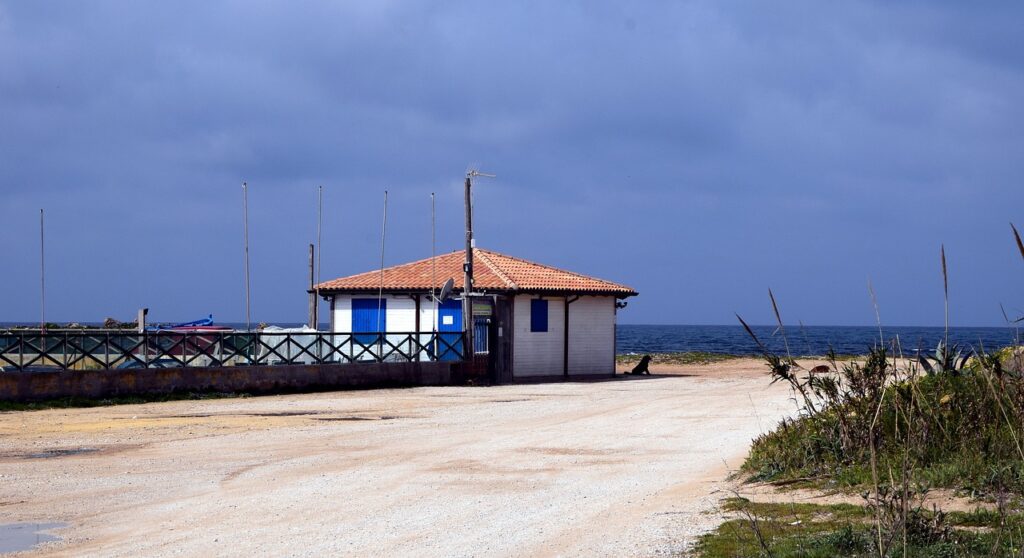 A beach hut near the sea in Christchurch Harbour, Dorset has been advertised for sale for £560,000.
In the same way that you can squeeze 12 people inside a red telephone box. The current owners claim that the shed is able to sleep 'up to' eight people. Lol.
So what do you get for your half a million quid apart from some wooden planks and blue paint?
Well, for a kick-off, it has no access to mains electricity and no bog. So, while you're on holiday with your seven mates. Don't expect to be able to listen to the footy results or the shipping forecast on the radio. Drink a cold beer, or take a piss. Let alone have a shit.
Life in plastic, its fantastic!
Apparently, it can fit five small (minute) single mattresses in the mezzanine level and is equipped with sofas that can convert into extra beds. This will be good news for the kids as their Action Men and Barbie dolls will have somewhere to sleep.
The hut is also fitted with a fully equipped kitchen (i.e. 1 x spoon, 1 x fork, 1 x knife). There is some storage underneath which is ideal for quantum physicists to keep their quarks in (W.C. 'Quarks' are the building blocks of Protons and Neutrons and the smallest things in the universe). 600-watt solar panels on the roof provide enough electricity to power an LED egg timer. It has a 100-litre heated water tank with heater – to boil the eggs in.
Isle of Why Beach Hut?
The deck offers a view that looks out towards the Isle of Wight. Apparently, the owners of beach hut are offering a discount for that.
According to Rightmove, the average price for a home in Dorset as of June 2022 was £368,614. FFS.
Also available for under a million pounds in the Dorset area are:-
A wheelie bin converted into a four-berth caravan (£134,000)
A used Budgie cage transformed into a six-berth tree house set in a municipal park (£267,000)
An upturned fairy cake case/yurt for nine people attached to a traveling circus (£865,925)