A young family has been evicted from their Aldeburgh home because the father was found to have a tattoo.
Dave Smith, 37, kept quiet about the inked tribal-style image on his upper left arm when he signed up for a rental property near the posh town's seafront.
But residents were horrified when they spotted the tattoo while Mr Smith was washing his van while wearing a vest.
They complained to the town council, and Mr Smith was given the option to remove the tattoo with laser treatment by the end of the month, or face eviction from the town.
The father of two refused to comply, and has now been forced out of his rented terraced home, which would have cost £750,000 on the open market, and moved to Ipswich instead.
"They don't mind tattoos in Ipswich. In fact you look a bit odd there if you don't have one," Mr Smith, a builder, told the Suffolk Gazette.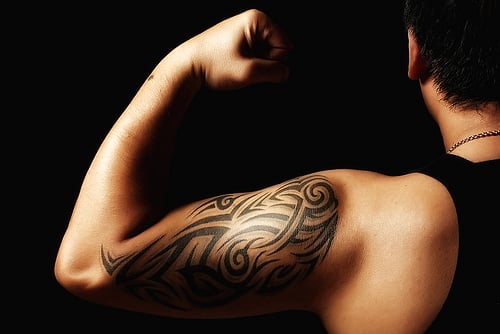 It's tattoo much: Mr Smith's arm went against Aldeburgh bylaws
A spokesman for Aldeburgh Town Council confirmed: "Our bylaws clearly state that you are not allowed to display a tattoo in a public place.
"They are tacky, ugly things designed purely for common people, and having them in a town like ours can only drag down our reputation.
"If these people really want to live by the seaside, we suggest they move to Lowestoft instead, where they will feel completely at home."
Aldeburgh resident Margery Daw saw Mr Smith with his vest and was furious. "He was cleaning his white van – that's another thing that should be banned in Aldeburgh – and I saw the tattoo.
"I was enraged, I felt physically sick, and it's all my friends have talked about at the golf club since."
Suffolk tattoo artist Clare Phillips said she had never done a tattoo for anyone from Aldeburgh. "They wouldn't be seen dead in my studio," she said.
The well-heeled town of Aldeburgh has been accused of snobbery before. We have exposed them for disguising Asda delivery vans as being from Harrods, for having police tanks prevent commoners from reaching town, and even a local police campaign to remove underwear from washing lines.