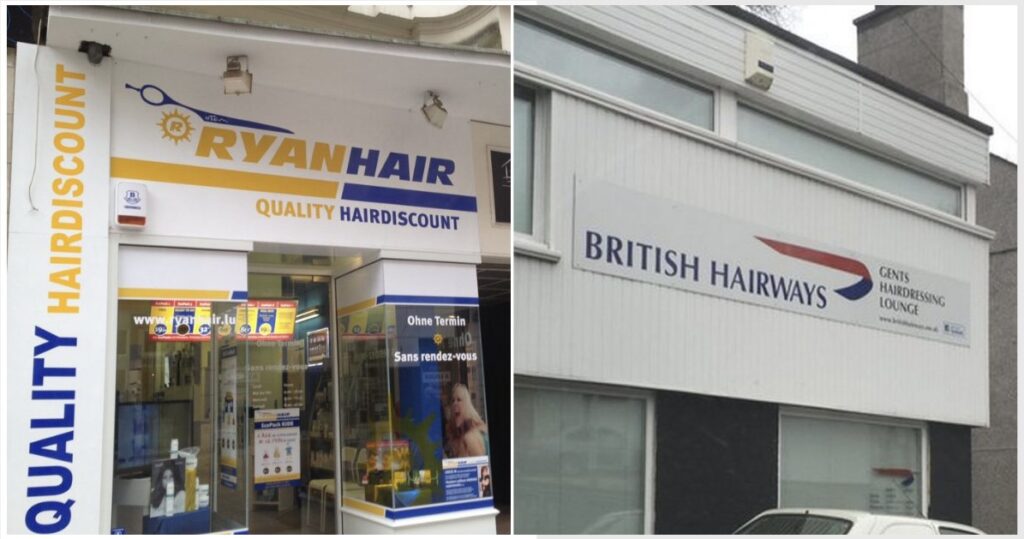 Brushing aside the disastrous impact Covid 19 has had on the travel industry. Commercial airlines Ryanair and British Airways are branching out.into the hair and beauty industry called Hairlines to boost sales in the run-up to Xmas.
Let's face it, with the eyebrow-raising cost of the pandemic to the global tourism industry.estimated at $935 billion, something silly had to be done.
Hairlines are open for booking
As you prepare to jet off on your winter getaway, instead of waiting impatiently for your gate to be called,.you can now sit back and relax in an effeminate stylist's swivel chair in one of the new 'terminal salons' being installed at all major UK & Irish airports, especially Southend Airport which is only 39.3 miles away from Ipswich. Only.
A load of old ponytail
Under the moniker, 'British Hairways', BA is offering women's cuts for £45,.all-over colouring for £50, or a 'special occasion updo' for £65.
BA competitor, Ryanair's 'Ryan-hair' service is offering men's cuts for £30, root smudge for £25, and balayage highlights with foilayage for £150, although standard knee space in its salons is limited to about 11 inches between the chair and the wash basin. Extra legroom seats are available from €/£14.00 – Rows 1, 2 (D, E, F) & 16-17 per cut or blow dry. Front Seats from €/£7.00 – Rows 2 (A, B, C)-5 per blue rinse. Standard Seats from €/£3.00 – Rows 6-15 and 18-33 per cut or blow dry or colouring. Complimentary cups of tea or coiffure are charged at €/£7.00.
Too much toupee
The new Hairlines trend in terminal hairstyling is catching on internationally. JAL, the Japanese flag-carrying hairline is offering Japanese straightening for $300+. However, this method of breaking and reshaping protein bonds to permanently alter the structure of the hair lasts for up to 7 months, and is suitable for clients who want a long-lasting, very straight result. Application takes several hours and must be booked upon consultation.
道中ご無事に
Dōchū go buji ni!
(Bon Voyage!)