By Rob Banks, Crime Editor
Six people were arrested when Suffolk Police smashed a sophisticated smuggling ring bringing evil Turkey Twizzlers across the border from Norfolk.
The deadly Bernard Matthews Turkey Twizzlers vanished from supermarket shelves in 2005 after celebrity chef Jamie Oliver revealed they contained very little turkey – but a great deal of fat.
But before production stopped, criminal gangs snapped up hundreds of thousands of bags and froze them in rows of deep freezers in a disused warehouse near Norwich.
And ever since the criminals have been shipping out dozens of bags a week to addicts in Norfolk and Suffolk, charging sky-high prices – sometimes as much as £40 a bag.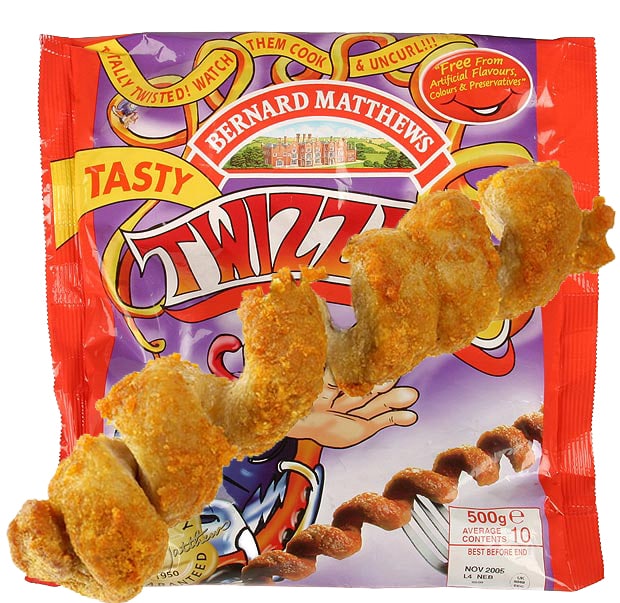 Seized: Part of the Turkey Twizzlers stash being smuggled into Suffolk
Detectives in Suffolk have known about the trade for years but had no idea how the Turkey Twizzlers were being smuggled unnoticed into the county.
But following a tip-off from a reformed Turkey Twizzlers addict, they lay in waiting as a boat laden with packets of the unhealthy snack was rowed across the River Waveney at Beccles.
Turkey Twizzlers
Officers pounced as two Turkey Twizzlers couriers met the cargo on the Suffolk side and began loading it into their Vauxhall Nova car.
Four people were arrested at the scene, with another two being picked up at the factory at Thorpe End, where officers found the 25-stone ring leader.
"This is a major result for us," a spokesman for Suffolk police said. "We are determined to keep Turkey Twizzlers off the streets. People easily get hooked and I'm afraid all the evidence shows it leads to bigger problems."
He said it was believed the shipment seized at Beccles, with a street value of £3,000, was headed for the Gainsborough estate area of Ipswich, which has a particular Turkey Twizzlers problem.
One self-confessed addict, Sarah Shaylor-Tee, said: "If I don't get a portion each day I get withdrawal symptoms. They should really allow Turkey Twizzlers to be sold in the shops again – then we could get these evil criminals off the streets. They are feeding on our misery."