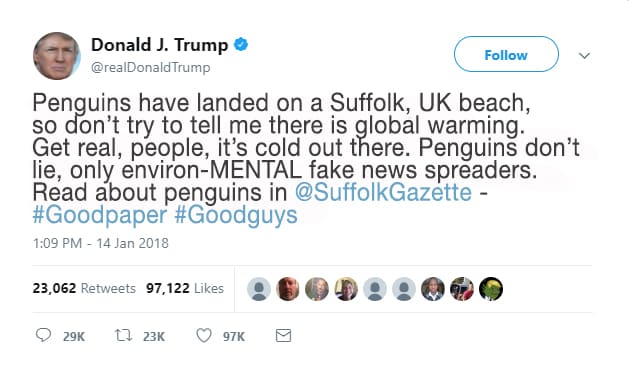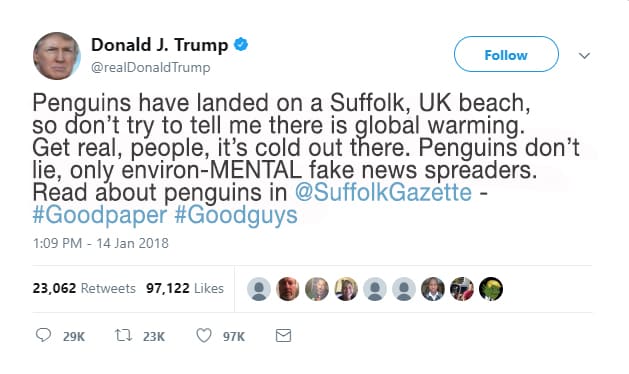 Donald Trump has picked up on this newspaper's exclusive story about penguins arriving on a British beach for the first time – claiming it is "proof" that global warming is a myth.
In a rant to his 47 million Twitter followers, the US President said the penguin story showed just how cold it is everywhere.
[AdSense-A]
He Tweeted: "Penguins have landed on a Suffolk, UK beach, so don't try to tell me there is global warming"
And in a pop at green campaigners, he added: "Get real, people, it's cold out there. Penguins don't lie, only environ-MENTAL fake news spreaders."
In a huge plug for this newspaper, he signed off: "Read about penguins in @SuffolkGazette. #Goodpaper #Goodguys"
We broke the story on Sunday that five penguins had turned up on Felixstowe beach.
Experts believe the Magellanic penguins hitched a ride to the Felixstowe Port on a container ship that arrived from the Falkland Islands last week.
They say the penguins appear to be perfectly at home and happy on the shingle close to Felixstowe's Spa Pavilion.
The story has taken Britain by storm, with many people saying they hope to catch a glimpse of the rare visitors.
[AdSense-B]
Mum Lorraine Fisher, 34, took her son to see them, and said he was "really excited" because he was a big fan of Pingu.
She agreed with Mr Trump's view when we caught up with her yesterday.
"It was freezing in Felixstowe, just right for penguins and it really proves global warming ain't happening."
* * * * * *
[wysija_form id="1″]
Join our witty Suffolk Gazette Facebook page community.