Did you know smoothies started out as liquidised food for invalids who had trouble chewing or digesting their grub? Now every lazy bastard who can't be asked to use cutlery is at it.
Atkins Protein shakes, and that SLIMFART stuff. And the hipsters who swish up green gunk from kale and spinach and spirulina, a foul-tasting fluorescent blue-green algae from the sea. It's a wonder they don't glow in the dark…and you don't want to get downwind from them.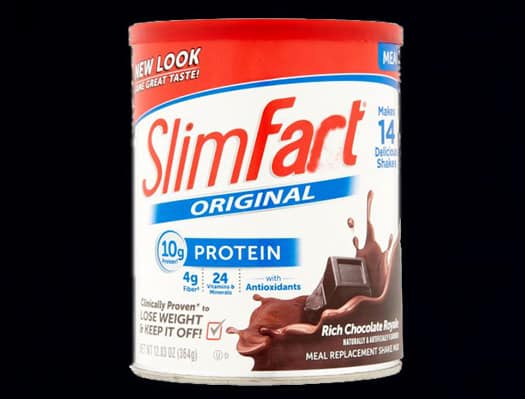 Slimfart: a load of hot air
Now here at CakeWatchers, our team of experts have devised some more tantalising smoothies, with our simple LARDpoints to keep you on track.
* THE TROPICAL: Put a tin of pineapple in the blender, add a scoop of Banana Nesquick and tip in half a bottle of Malibu and a couple of shots of rum. Shettle yourshelf in a deckchair and shtick shame shun lotion on. Cheers! (37 LARDpoints)
* THE CHOC-A-BLOCK: Put some full fat milk in the blender with a dollop of clotted cream. Add a packet of chocolate buttons, six Oreo Cookies, two Crunchie Bars, two Cadbury's Flakes and a large swoosh of Baileys. (83 LARDpoints)
* THE FULL ENGLISH: Fry two eggs, three sausages, some black pudding, four hash browns and mushrooms. Put the lot in a blender with a tin of beans, some tomatoes and a pot of tea with milk and three sugars. Great if you're in a hurry. (90 LARDpoints)
* THE IPSWICH TOWN: Shove a Portman football pie or two in the blender with a bag of chips a blue-icing Krispy Kreme Donut and a pint of Adnams (do it on "pulse action" or the beer will fizz all over the worktop.) A great post-match snack. (75 LARDpoints).
Until next time,
Fatima.