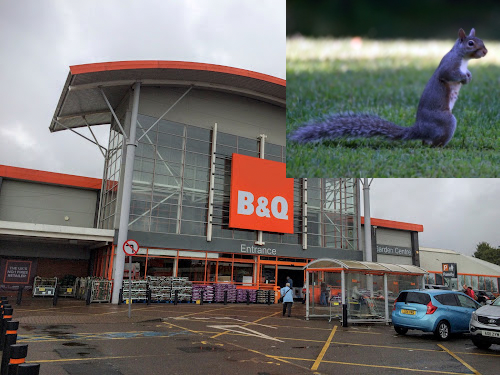 Apparently, a "not so" highly intelligent squirrel was caught stealing food inside a BnQ Norwich store for the ultimate heist.
How nuts is that?
It happened on a saturday night when a burglar alarm was triggered which called out Norwich police to the crime scene at Norwich BnQ.
The first question the officer asked was "How many nuts can a squirrel fit in his mouth?"
I guess this is the equivalent of a human robber having a big bag with a dollar sign on it.
The squirrel was photographed near a barbecue grill at Norwich BnQ before it successfully fled the scene of the crime.
Did he at least wear a black mask to hide his identity? Well according to the footage, he didn't wear anything to conceal his identity.
Want to know what's even more nutty?
It turns out that the Norwich BnQ thief was the ex star of the Alvin and the Chipmunks successful film franchise.
He was currently not working on any films due to his addiction of stealing nuts and other crime related endeavours.
His agent and manager Mr Walshe, 39, fired him due to his destructive habits.
Walsh said,
"I believe all this Hollywood success got to his head. He is paranoid of the alleged nut shortage that will come".
Alvin now lives a life of crime stealing from other chipmunks and breaking into DIY stores for supplies.
Alvin stated,
"I am preparing for the nut shortage that will inevitably happen. Inflation prices are out of control which will affect the supply chain. I need to support my family. If it means I have to steal, then so be it."
Findings:
Some species of squirrels can fly which is why they were never able to capture Alvin.
His ability to fly away is unmatched for killer police drones.
Alvin is still on the loose. There is a bounty on alvin.
Whoever finds and captures him will be rewarded 88 nuts, a lifetime supply of peanut butter, and the ultimate cure for peanut allergies, all tax free.
Be advised that he lies, he might be flying over your very own eyes.