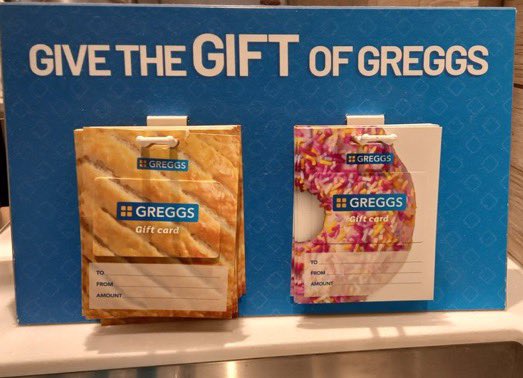 Rits restaurant in Suffolk has been ridiculed for its new 'Cordon bleeeurgh' menu. Diners were amused and disgusted when they arrived at the eatery on Tower Street Ipswich. To find that all that was on offer was Greggs gift cards.
That's it. Greggs gift cards with a choice of two designs: cheese and onion bake or sugar strand doughnut.
Bemused clients attending the restaurant last Saturday were seated as normal in accordance with their reservations. However, when they were ready to order, waiting staff appeared,.not with menus, but rather the popular high street bakery's limited selection of gift cards.
Sweet Mince Pie Greggs Gift Card
To yelps of "What the f*ck am I supposed to do with that?" and "Are you taking the p*ss?",.the collective of disappointed diners, shuffled in their seats and loudly harrumphed as their hunger got the better of them. Before long, acting assistant manager,.Glenn Crump was dragged-out from his little office next to the kitchen to be confronted by the entire clientele, who were by now, banging on the tables in unison, with their useless knives, forks, & spoons, and loudly denigrating the new Greggs menu.  One incensed customer was heard to holler 'Full tums, not yum yums!' Another tried to start a repeating chant of 'Sausage, bean,.and cheese melt? No!
Custard Doughnut Greggs Gift Card
When Crump, who was by all accounts totally overwhelmed by the level of unrest that had taken hold in the restaurant, was finally cornered by a large, red-faced man with a napkin already stuffed down the front of his shirt, and sharp cutlery in his hands, he fainted and, living up to his flaccid name, slid down the wall like an inartistically flipped pancake – which was also not on the menu.
In a happy cheese twist, however, the new menu was not a total disaster. James Ray, an amateur food critic, and writer who was visiting Rits on a recommendation left the dining room a happy man. "Greggs hot sausage rolls? Best in the land! Give me two cards with £50 on each please!"
What would you buy with a £50 Greggs gift card?