By Casey Jones, Railways Correspondent
Greater Anglia is to scrap its entire fleet of ancient trains after realising the replacement bus service is faster and more reliable, the Suffolk Gazette can reveal.
Bosses of the under fire rail company, voted one of Britain's worst in a recent Which? survey, are buying hundreds of colourful second-hand buses to run the mainline route between London and East Anglia, as well as all the branch lines throughout the region.
Weary passengers appreciate the punctuality, cleanliness and speed of the replacement bus service, which has been called on more often in recent years, particularly over weekends.
And it didn't take long for Greater Anglia statisticians to work out the buses were faster, never broke down – and were cheaper to run.
Now they have agreed to replace all their trains with a fleet of 400 second-hand buses imported from Central America, while a Suffolk scrap yard is in negotiations to break up and dispose of the train rolling stock.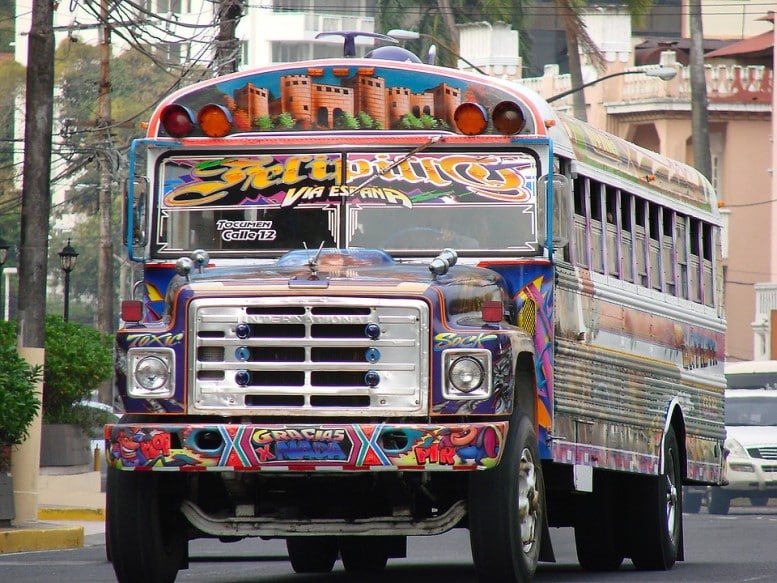 All aboard: colourful bus service will replace all Greater Anglia trains
The bus services, which will add a delightful splash of colour to the region's roads, will run from the current railway station network, although changes will be needed to improve road access in some cases.
A rail insider said: "Rail passengers were beginning to notice that the replacement bus service was quicker, reliable and much more pleasant way to travel.
"Greater Anglia decided to latch on to the sentiment to try to gain some customer satisfaction, which recent surveys have found to be lacking.
"But because the buses they are buying are so old, the rail company has promised a very expensive improvement programme, including new seat covers, carpets and toilets that do not flush directly onto the road below."
Regular commuters are looking forward to the change. Jeremy Shanks, 41, who commutes to London every day from Sudbury in Suffolk, said: "It will be a novelty being able to get a seat, and the bus ride to and from London will be reliable, relaxing and fast. It will be cheaper, too."
Suffolk and Essex county councils were this week discussing the plans, and whether they could turn the slow lane of the A12 dual carriageway into a bus-only lane to improve the bus journey times even more.