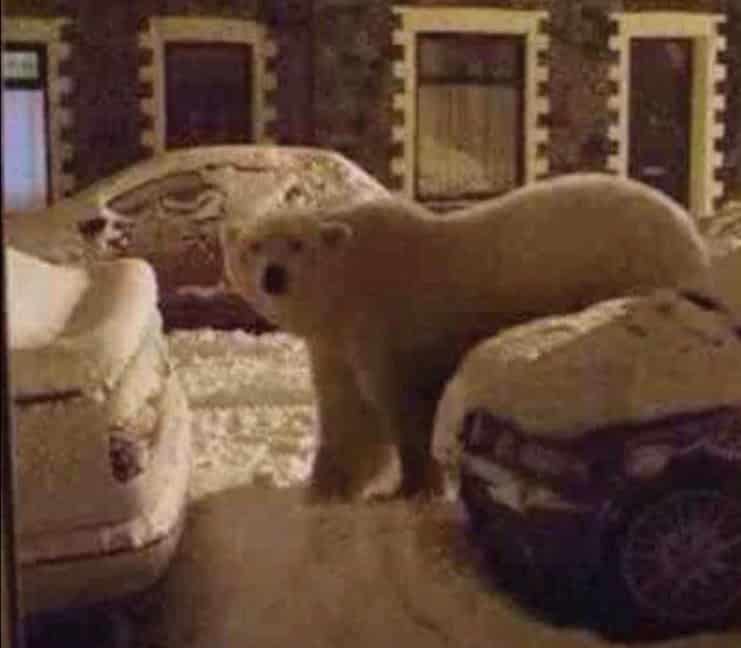 It is so cold in Ipswich that a polar bear has been spotted roaming the streets, it has emerged.
Residents around the Woodbridge Road area saw the huge, white bear strolling along looking for food.
It had been attracted to Suffolk by freezing temperatures and many inches of snow, swept in by the so-called Beast From The East.
Experts say it is unusual for polar bears to wander around town centres in Suffolk, but residents should not be alarmed.
Arctic expert Lorraine Fisher, 34, said: "Changes in the weather can cause the wildlife to change their habits.
"Recently, for example, the Suffolk Gazette revealed how five penguins were spotted on Felixstowe beach, so Suffolk has had its fair share of rare visitors.
"Judging by your exclusive photograph, this male polar bear seems quite friendly.
"But I would recommend your readers do not approach it or ask to have their photo taken with it.
"The bear may well be hungry and mistake a tubby child for a tasty seal."
The polar bear in Ipswich has been spotted in Woodbridge Road, Nelson Road and nearby Rushmere Road, and looks quite at home in the white-out conditions.
Our photograph was taken by shocked reader Steve Walshe, 42, a builder from Nelson Road.
He said: "I was putting the bins out when I saw this huge polar bear wandering down the road. It was in the middle of the street and it took a pee up against my neighbour's Nissan Micra.
"I was quite scared, but managed to get the photo on my phone before running inside to check the cat was all right."
Ipswich police said they were aware the polar bear was around but insisted it would soon head back up north once the cold spell was over.
"If it causes any trouble, we'll send over a Panda car to investigate," a detective said.