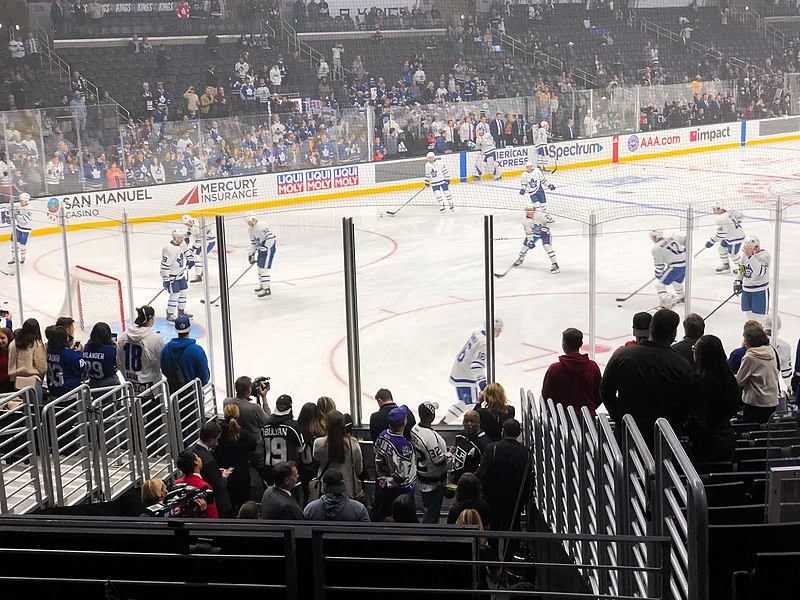 The Toronto Maple Leafs and Ottawa Senators will soon welcome larger crowds at their home games.
Per Sportsnet's Elliotte Friedman, the Ontario provincial government announced Monday that the Maple and Senators may welcome capacities of up to 50 percent for home games beginning this Thursday. Friedman added that Mar. 14 is the scheduled date to allow full capacity again.
The NBA's Toronto Raptors, who share the Scotiabank Arena venue with the Maple Leafs, are also permitted to have 50 percent capacity at home games.
Previously, the limit was 500 people for indoor sporting events in Ontario. But the Maple Leafs and Raptors, two of the hottest teams in professional sports right now, will soon get much-needed crowd noise and support to fuel their playoff pushes.
The Maple Leafs share the fourth-best Stanley Cup odds with the Carolina Hurricanes at +1000. Maple Leafs, Senators and Raptors fans will be able to place wagers at the top sportsbooks in Ontario when they launch in the province on April 4.
The Senators, who have been ravaged by injuries all season, are headed for a fifth straight non-playoff appearance. They have a lacklustre 9-13-1 home record, but the return of large crowds at home can only help Brady Tkachuk and company improve their overall play.
Toronto has been one of the NHL's top teams on home ice in 2021-22. They're 17-4-1 at Scotiabank Arena, having not lost a game there since Dec. 9 against the Tampa Bay Lightning.
Senators' Austin Watson suspended two games for hit on Jack Ahcan
The struggling Senators won't have one of their veteran forwards for the Feb. 15 and Feb. 17 games against the St. Louis Blues (home) and Buffalo Sabres (away), respectively.
On Sunday, the NHL's Department of Player Safety announced that Austin Watson had been suspended two games for his interference infraction on Boston Bruins blueliner Jack Ahcan.
Watson was penalized for interference in the first period on the hit. The Senators fell 2-0 to the Bruins despite a strong outing by goalie Matt Murray, who turned aside 35 shots.
2021-22 has been a frustrating season for Watson as far as individual performance goes. The 30-year-old has just two goals and one assist in three games. The veteran winger is signed for one more season with a $1.5 million cap hit.
Maple Leafs looking to move out Nick Ritchie
With the Maple Leafs on the verge of another postseason appearance, general manager Kyle Dubas figures to be one of the most aggressive buyers at the Mar. 21 trade deadline.
Dubas' long to-do list will reportedly include finding a taker for struggling veteran forward Nick Ritchie.
On Saturday, Friedman reported on Hockey Night in Canada that the Maple Leafs are looking to provide Ritchie with a fresh start.
"There's no official trade request, but I think everybody here understands it might be better to find him somewhere else to play," Friedman said, "and I think there has been some traction in the last few days around the league."
The 26-year-old Ritchie came off a career year with the rival Bruins that saw him tally 15 goals and 11 assists in 56 games. However, the cap-strapped Bruins decided not to bring back the 6-foot-2 forward.
Toronto took a chance on Ritchie, hoping he'd be able to continue his scoring touch on a deep group of skilled offensive players. But the No. 10 selection by the Anaheim Ducks of the 2014 NHL Entry Draft has mustered just two goals and seven assists in 33 games.
The Maple Leafs waived Ritchie last month, but there were no takers for the veteran forward. He was subsequently assigned to the Maple Leafs' AHL affiliate, the Toronto Marlies, but Ritchie has yet to play a game there.
As usual, the Toronto offense has been spearheaded by Auston Matthews, John Tavares, Mitch Marner, William Nylander and defenseman Morgan Rielly. Michael Bunting, Ondrej Kase, Pierre Engvall and Jason Spezza have supplied key secondary scoring, making Ritchie expendable.
Ritchie's deal with the Maple Leafs is for $5 million over two years. They'll likely have to take on a similar contract in order to find a partner for the last year and a bit of Ritchie's deal.