An electric car that can go up to ten miles on just one token has been invented by an innovative Suffolk engineering firm.
Haverhill-based Billy Bumper Ltd believes the attractive vehicle, which is a two-seater convertible, will take the eco-friendly automotive market by storm.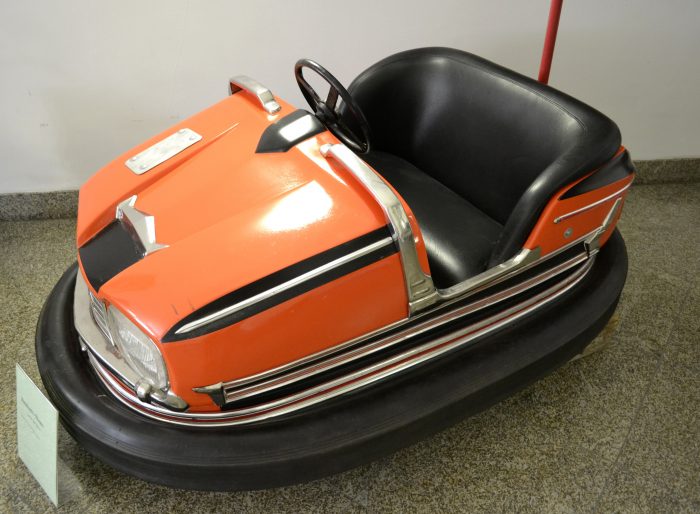 "It's sleek, aerodynamic design will be a hit with buyers, and it even has inbuilt safety features to protect pedestrians," a spokesman said.
The launch of the Lightening Bolt vehicle is the second piece of good news in weeks, coming as it does after the first post-Brexit British car rolled off the production line.
At a special launch of the Lightening Bolt in a field outside Haverhill, executives showed off the car's brilliant handling skills.
"It really does turn on a sixpence," said head of public relations Lorraine Fisher, 34.
"You can really throw it around and it sticks to the road like glue. Topless motoring has never been so much fun."
She explained that owners simply have to buy some round plastic tokens that will then power up the car for at least ten miles a time.
"Simply insert the token and away you go," Ms Fisher explained. "Feel the wind in your hair as you take to the open road."
Electric car
The Lightening Bolt has a novel safety feature, a deep rubber bumper that goes all around the vehicle.
"This is a bonus for any pedestrians, but it also means the car will not be damaged if it bashes into another one."
The clever bumper also means a person can stand on the back of the vehicle as it moves along, so long as they hold on to the tall aerial.
Intriguingly, the automatic vehicle does not have a reverse gear. Instead, drivers are taught how to turn the steering wheel repeatedly until it locks, which then makes the car go backwards.
The steering wheel is in the middle of the dashboard, while the car's seatbelt mechanism can be shared by the two occupants.
Billy Bumper Ltd, which employs 27 people at its Haverhill plant, already has hundreds of orders from coastal towns such as Blackpool, Clacton and Felixstowe.
"Our order books are full," one excited member of staff said.
Each Lightening Bolt is priced at £2,499 and comes with a range of optional colours, including red, yellow, orange and the ever-popular blue.
Buyers should be aware that although the vehicle has lights, there is no radio or heating system. Or doors.
Buy a mug instead
Our mugs make excellent gifts and will be enjoyed every day for years. Buy directly below or see all the collections at Dirty Old Goat.