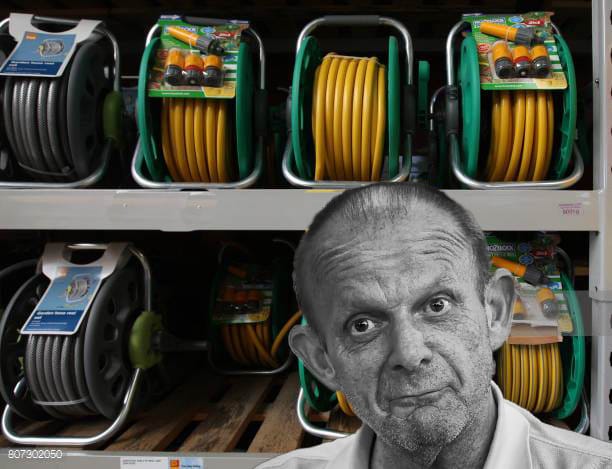 By Ian Bred, Norfolk Correspondent
Norfolk man Donnie Spuckler says he's no fool – he's snapped up a garage-full of hosepipes to beat any hosepipe ban.
As Britain swelters without rain for weeks, there is a danger parts of the country could see hosepipes banned.
But cunning Mr Spuckler was not going to get caught out that easily.
"It's so dry because of the heatwave," he said. "There was talk on the telly of a hosepipe ban.
"I thought what would I do without any hosepipes?
"So I went down to B & Q in Norwich and bought all their hosepipes. Then I went to Wix and did the same.
"It took quite a few trips in the car, but it will be worth it.
"When the ban comes in, I shall never be short of a hosepipe again. It cost me £1,350 but it's worth every penny."
East Anglian water expert Lorraine Fisher, 34, said: "It seems your Mr Spuckler is very pleased with himself for getting hold of so many hosepipes.
"But I'm afraid he seems to have got the wrong end of the stick."
June saw the lowest rainfall on record, and July has also been bone dry across East Anglia, increasing the chances of a hosepipe ban in the region.
It would mean everyone who purchased a cordless garden hose will be unable to use it.
No ban on cheery mugs
You can still buy them from our partners at DirtyOldGoat.com – or click on one of the fetching products below. All mugs come with FREE UK DELIVERY…