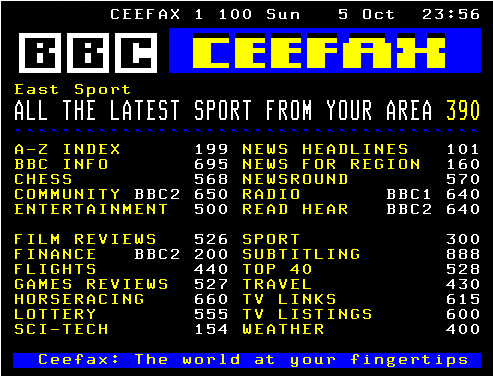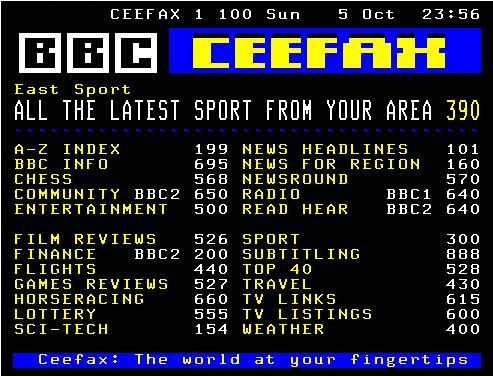 By Ian Bred, Norfolk Correspondent
The county of Norfolk is celebrating the arrival of Ceefax, a new-fangled piece of communications technology.
Locals are glued to their television sets for hours, watching the pages of text information appear quite slowly.
Even though not many people in Norfolk can read, the Ceefax service, provided by BBC East exclusively for Norfolk, is seen as a huge step forward in bringing the county up to speed with the rest of Britain.
Locals can now see news, the weather, and even football results more or less in real-time – although they have to wait for the Ceefax service to cycle through ten pages in rotation before the scores actually update.
"It's a giant technological leap for a place like Norfolk," said BBC East head of Ceefax, Lorraine Fisher, 34. "Television has only recently arrived in the county, and now those lucky enough to have a set can enjoy our text-based information service.
"The feedback has been mixed, we admit, as some Norfolk viewers are having difficulty getting to grips with the remote control required to use Ceefax.
"It seems having six fingers is not as useful as it sounds."
Ceefax service
Local man Bubba Spuckler, who lives in Downham Market with his sister and their eight children, said: "We've been gathering around my uncle's TV and pointing at Ceefax a lot. We have no idea what it means but I am sure there is trickery at work."
The Ceefax service is being updated by a team of three writers at the BBC's offices in Norwich.
They simply copy items off the internet, then paste them into the Ceefax software so that it spits out boxy text pages to the local simpletons.
How about these Norfolk mugs?
Our mugs make excellent Christmas gifts as they will be enjoyed every day for years. They come with free UK delivery – buy directly below or browse all collections at our potty pottery partner, DirtyOldGoat.com