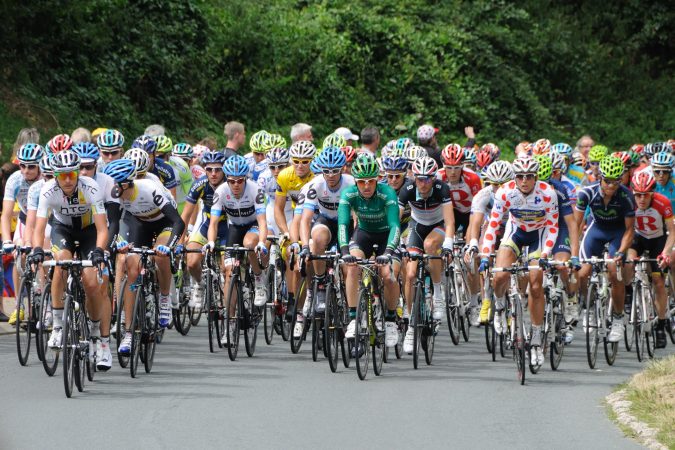 By Bernie Legg, Cycling Correspondent
Weedy asthmatics and allergy sufferers are most likely to win the punishing Tour de France, it has been confirmed.
Far from being a hindrance, not being able to breathe properly is just what is needed to excel in the showpiece endurance cycling event, which starts this weekend.
Wheezing, sneezing and coughing on your bike will help propel you fastest for hundreds of miles a day – and up huge mountains in the Alps quicker than seemingly fit athletes, a new report reveals.
[AdSense-A]
The study, released today by a House of Commons Select committee, confirms the link between being sickly and success at professional cycling is too strong to ignore.
MP Lorraine Fisher, 34, who headed the study, said: "We all remember the weedy, sickly kids at school who couldn't breathe after walking up the stairs.
"And then there were those who began sneezing the moment the sun came out, or as soon as they went within half a mile of a meadow.
"And we recall at the time that they were not terribly good at sport, and were always last to be picked.
"But our study has found that for some reason many of them have become champions at professional cycling."
[AdSense-B]
It is not known why people with terrible asthma or allergy problems are so good at what is widely regarded as one of the most physically demanding sports in the world.
But one theory is that the puffer inhalers and other medications that they use for their debilitating conditions make them go faster than anyone else.
Cycling expert Steve Walshe explained: "Cycling has to improve its image and is therefore absolutely clamping down on the drugs cheats.
"This means that even people who can't breathe properly can compete with the best in the sport and win astonishing endurance events like the Tour de France."
The Suffolk Gazette reached out to famous asthma patients and previous Tour de France winners Sir Bradley Wiggins and Chris Froome for comment, but has so far had no response.
Meanwhile, Team Sky's Froome got a frosty reception at the Tour's presentation launch yesterday, just days after his anti-doping case was dropped.
* * * * * *