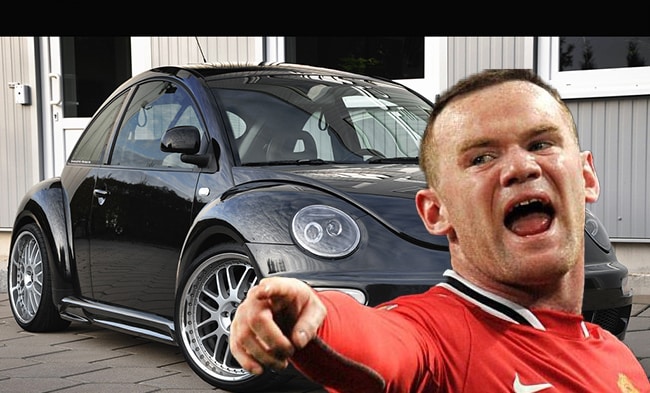 By Hugh Dunnett, Crime Correspondent
Football star Wayne Rooney has been charged with driving a VW Beetle, it has emerged.
The Everton and former England captain was stopped by police in Cheshire in the early hours of Thursday morning.
It is an offence for a man to drive a VW Beetle, which are explicitly for women motorists.
Police stopped the car at 2am in Wilmslow when they suspected a male was behind the wheel.
A police spokesman said: "Officers stopped a black VW Beetle because they were sure they had seen the driver was a man.
"They discovered Wayne Rooney, 31, in the driving seat, and he has now been charged with driving a VW Beetle."
The footballer had been on a night out with pals while his pregnant wife was away on holiday.
Rooney has been bailed to appear before Stockport Magistrates on September 18 – the day after Everton take on his former club, Manchester United.
Men have been forbidden from driving VW Beetles for 20 years under the 1997 Driving Decency Act.
News of Rooney's alleged offence comes just weeks after the Suffolk Gazette revealed a man had been spotted driving a Fiat 500.
A pal of the star said: "This will be so embarrassing for Wayne. Being allegedly caught driving a VW Beetle is a massive no no for any self-respecting man.
"He'll have a lot of explaining to do when Coleen gets home."