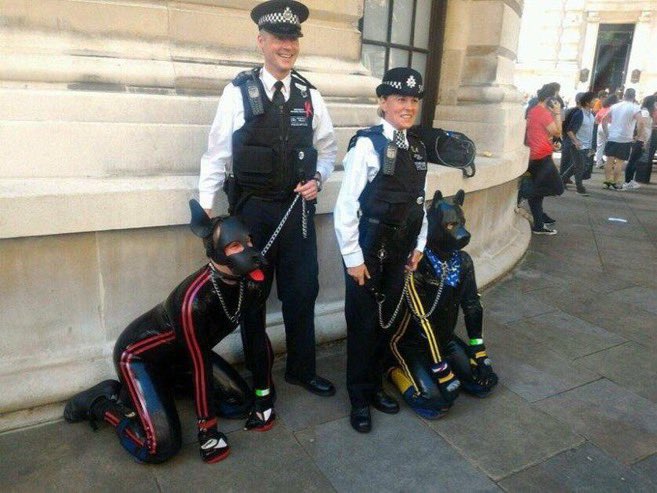 Cutbacks were today blamed for Suffolk Police recruiting S&M fetishists into their K9 response unit.
Dubbed 'the gimp squad', the new leather-clad recruits were hired.after they responded to an ad placed in 'Leather Love' adult magazine by Conservative Police and Crime Commissioner Tom Pissmore.
Pig lover Pissmore, 67, who, for the past 80 years has been an intensive livestock producer and expert on pig breeding, is himself a sado masochist, despite the fact that he pretends to live as a normal, happily married Tory with his wife Angela and their three boys in west Suffolk.
Volunteer perverts
Pissmore, who is particularly fond of shiny vulcanized latex, is believed to be behind the cutbacks which forced the recruitment of volunteer perverts into the K9 unit.
An investigation by the SUFFOLK GAZETTE revealed that due to war, famine, Brexit, postal strikes, rail strikes, nurses strikes, sunny weather, the endangered status of the Javan Rhinocerous, institutional racism at the Theatre Royal Stratford East, and the never-ending, ever-upward-spiralling cost-of-dog food crisis, Pissmore decided to open up the HR drive to his mates in the local S&M community who agreed to do it for free.
Let off the leash
Reverend Glynis Galbraith, 57, a clergyman from Tuddenham who agreed to talk to us on condition of anonymity, told this reporter "Woof! I do it because I like being treated like a dog, ruff.
Part of my job is chasing baddies, woof. I do a lot of sniffing to help me find them. I sniff everywhere, bark! Bark! I don't mind sniffing in the gutter, through rubbish bins, or up humans' arses, grrrrr. I'll sniff whatever it takes to uphold the law, ruff!"
We asked Mr Pissmore for an interview but his secretary said it wouldn't be possible as he was currently hand-cuffed to his desk wearing a hooded bondage mask with a ball gag down his throat.
Are you part of the Ipswich BDSM community? Do you have any compromising photographs of Police and Crime Commissioner Tom Pissmore?
Send them to pissmorepissedonme@suffolkgazette.dirtybastard.com.co.uk