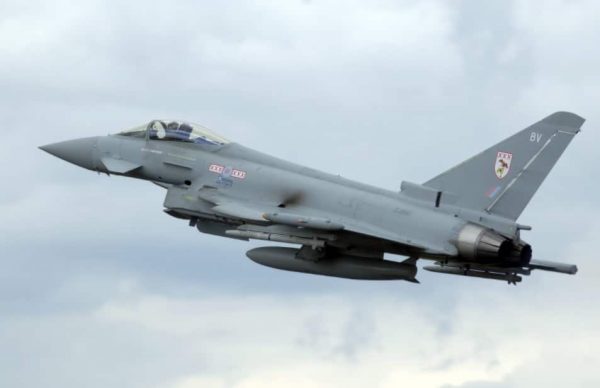 By Doug Trench, Defence Editor
Two RAF pilots have been ordered to attend a police speed awareness course after their jets caused a sonic boom today.
The unnamed servicemen must fork out £90 each to attend the four-hour classroom exercise – or go to court and get three points on their license.
Thousands of startled residents heard a massive BOOM this morning when two RAF Typhoons went at supersonic speed to intercept a Ryanair flight, which had been the subject of a security hoax.
This means they broke the speed of sound and went over 750mph – well above the recommended speed limit.
The two jets then escorted the Luton-bound passenger aircraft into Stansted Airport where it was given the all clear.
But no sooner had the pilots landed back at RAF Coningsby in Lincolnshire than they received a letter from Norfolk and Suffolk Constabulary informing them of their speeding offence.
An RAF insider fumed: "Those bloody police speed cameras are a nightmare. The letter informs the pilots they were above the speed limit according to the annoying series of average speed cameras on the A12.
"As such they have to go on a speed awareness course and sit on the naughty step alongside all the other people who got caught going slightly over the speed limit.
"They were only doing their job, defending the country from potential attack!"
Suffolk Police confirmed there had been sonic booms over the county caused by the speeding jets but declined to discuss the speeding tickets.
The RAF has said it would consider appealing against the speed awareness course letter.
Observers were astonished the hoax involved a Ryanair flight from Lithuania in the first place.
One said: "It's frankly an unbelievable story – everyone knows Ryanair flights are currently rarer than hen's teeth."