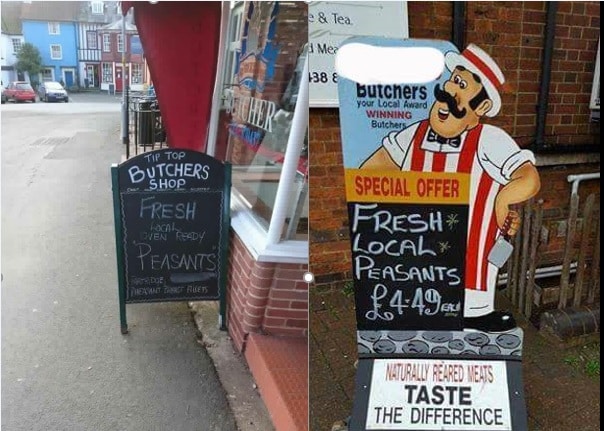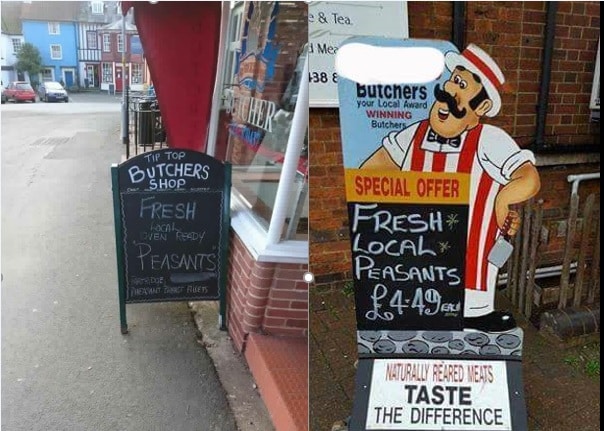 By Rob Banks, Crime Editor
Police are investigating the mystery disappearance of dozens of working class people around Lowestoft in Suffolk.
Officers have been inundated with calls about loved ones who have failed to return home after a night out at the pub or bingo.
They say there may be a link into the missing 74 people, all of whom lived in or around Lowestoft, and all of whom were said to be on the bread line.
Police say the disappearances coincided with the opening of two new butchers' shops in the town, which have been advertising some strange meats.
One has a sign outside saying 'Fresh local peasants, £4.49 each', adding 'naturally reared meats, taste the difference'.
Another one has a display informing shoppers 'Fresh, local oven ready peasants'
Neighbours say there has been some strange coming and goings late at night, with deliveries arriving in rolled-up carpets for some reason.
A Suffolk police spokesman said: "There is no obvious link at this time, but we find it curious that two local butchers have started selling peasant meat just as lots of poor people go missing.
"We are sending round some detectives to investigate if the owners are telling porkie pies."
Mr Sweeney Todd, who runs one of the outlets under police watch, said: "Our peasants are of the finest quality.
"All have been plucked and can be de-boned on request.
"And because they are peasants, there isn't an ounce of fat on them."
In other news, shop owners in the area are being asked to get some spelling lessons.