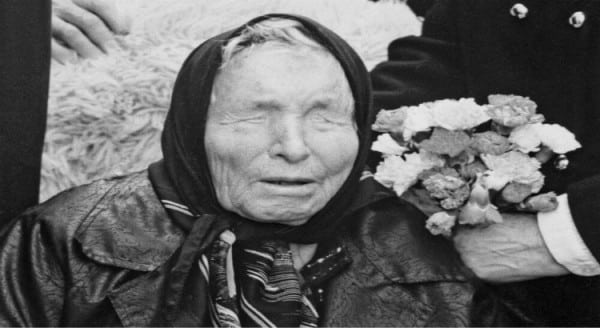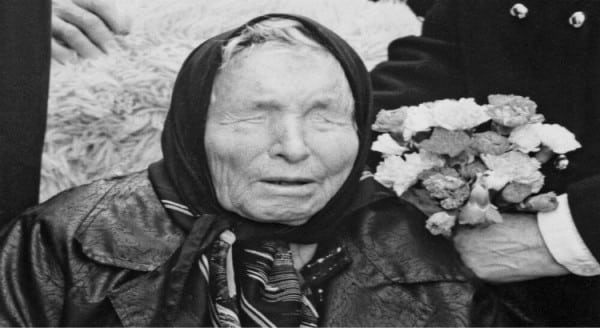 World Exclusive
By The Editor
The Norfolk Nostradamus, Babs Vanga-Spratt, whose prophecies have captivated the world for decades because they always come true, has granted an exclusive sitting with the Suffolk Gazette to predict what lies ahead in 2016.
Miss Vanga-Spratt, 87, who got her famous powers after losing her sight when she was a young girl, met with The Editor for 30 minutes at her sparsely-furnished cottage in North Walsham – and made some extraordinary predictions for the next 12 months.
[AdSense-A]
The most sensational claim was that Norwich City would be relegated from the Premier League in May, passing Ipswich Town in the other direction after their promotion via the play-offs.
Miss Vanga-Spratt, whose second cousin Edna Spratt from Dereham is known to Suffolk Gazette readers, went deathly quiet when she said Norwich's fall from grace was written in the stars after ex-shadow chancellor Ed Balls joined as club chairman this week.
She said Suffolk businesses would enjoy a bumper year, with Adnams, the Southwold brewery, recording record sales, while coastal estate agents would continue to profit wildly from rich Londoners snapping up second homes, forcing locals to live in tents.
Perhaps her most astute prediction was about major weather events, which is not surprising given she lost her sight during a freak tornado that struck North Walsham in 1931, when dirt and grit clogged her eyes and closed them for ever.
As the Suffolk Gazette Editor sipped dandelion tea and noted every word, Miss Vanga-Spratt said: "It will get warmer in spring, then get hotter in the summer before cooling down in Autumn and getting chilly in the winter."
But one prophecy forced The Editor to choke on his tea – Miss Vanga-Spratt insisted that in June, a Greater Anglia train from Norwich to London, via Ipswich, would run on time.
"Mark my words," she whispered. "It will be the most momentous feat of modern transportation: the first Greater Anglia train to run without delays, perhaps even to run at all."
[AdSense-B]
At this point The Editor began to think Miss Vanga-Spratt, who bears an uncanny resemblance to internationally-famous blind Bulgarian mystic Baba Vanga, had lost her marbles. But her last prophecy before she fell asleep, exhausted by calling upon her powers, made him sit up and take notice.
"The Suffolk Gazette will continue grow its readership massively in 2016," she cooed. "And many of those readers will be delighted to buy The Editor a Beer."
Cheers, and Happy New Year!