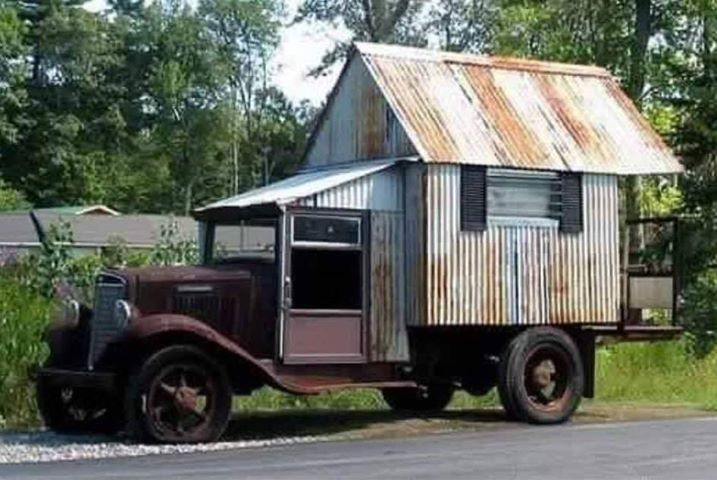 By Ian Bred, Norfolk Correspondent
Brits unable to jet abroad on holiday after a chaotic Brexit can enjoy a week's staycation in a smart new Norfolk-made motorhome.
The luxurious Motahoom vehicle was launched this week near Norwich, and bosses expect demand to be high once lockdown is over.
Marketing director Lorraine Fisher, 34, said: "This is the most advanced piece of kit to come out of Norfolk in decades.
"The Motahoom has all the trappings of home, but on the road.
"Why worry about getting abroad after Brexit when you can explore the delights of the A147 instead?
"This is the future holiday for millions of lucky Brits."
The Motahoom consists of a sturdy Norfolk-made chassis and retro corrugated iron body.
It boasts all mod cons (for Norfolk), including five wall-mounted candle holders, a bucket to piss in and a navigation system, consisting of a dog-eared 1983 AA road map.
Norfolk MP Bubba Spuckler, who attended the glittering Motahoom launch this week, said: "At least there is some good news coming from Brexit.
"Holidays will be fun again, thanks to Norfolk ingenuity."
The Motahoom does 0-60 in three days. Air conditioning is extra, by way of fitting opening windows.
The news comes after Britain's first post-Brexit car was launched, and also after a woman crashed her motorhome after putting it on cruise control to make a cup of tea.
Norfolk mugs (the drink holders, not the people)
Get one of the Suffolk Gazette Norfolk mugs, complete with free handles large enough to fit six fingers. See our full collections at our partner Dirty Old Goat, or click to buy one of the ceramic cuties below…