News
Tim Peake claims £17 million mileage expenses
By
|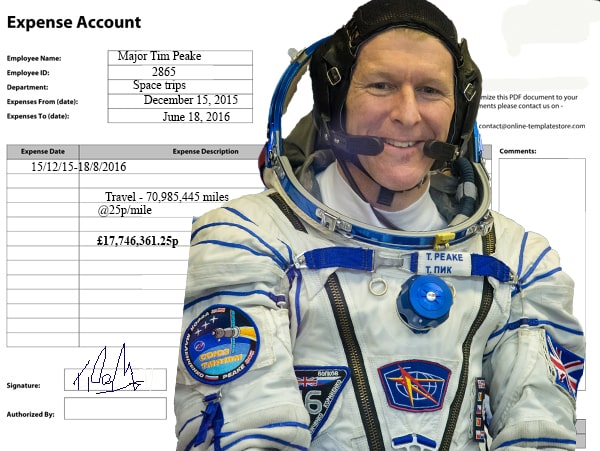 By Suffolk Gazette Staff
British astronaut Major Tim Peake has been asked to resubmit his space mission expenses after claiming more than £17 million for mileage.
A document seen by the Suffolk Gazette shows Major Peake clocked up 70,985,445 miles during his historic trip on the International Space Station this year.
And, in line with European Space Agency policy, he tried to claim 25p for every mile he covered for work – amounting to a whopping £17,746,361.25p.
But bosses gave Major Peake, 44, the bad news that mileage from his six-month space trip was not allowable, and have told him to resubmit the form with only mileage to the launch pad from his hotel – amounting to just £4.50.
Major Peake, who flew over Suffolk several times during his 2,720 orbits of earth, has accepted his expenses rejection in good spirit, and is said to be looking forward to receiving the smaller amount.
An insider at the European Space Agency said: "There was a bit of a mix-up. Tim assumed he could claim work-related mileage while onboard the space station, although he expected to take a few miles off for the period he was doing his space walk.
"Our accountants sent his expenses claim back and the matter has been resolved amicably."
A pal of Major Peake said: "Everyone finds doing expenses is a pain in the backside, and Tim is no different."
Please support my running costs by clicking here and buying me a beer!