News
What Google really thinks of Suffolk (it's not good)
By
|
By Suffolk Gazette staff
Google search has a bad impression of Suffolk's major towns, calling most of them "a dump", we can reveal.
Typing in a Suffolk town name followed by the word 'is' in the Google search bar generates an autocomplete list of suggestions for you to click.
And they are mostly unflattering or unintentionally funny, with only Haverhill appearing to be any good, with Google suggesting "Haverhill is happening".
Here is the new Google map of Suffolk. Please note only larger towns work – typing in smaller ones does not generate a "[town name] is" automcomplete suggestion.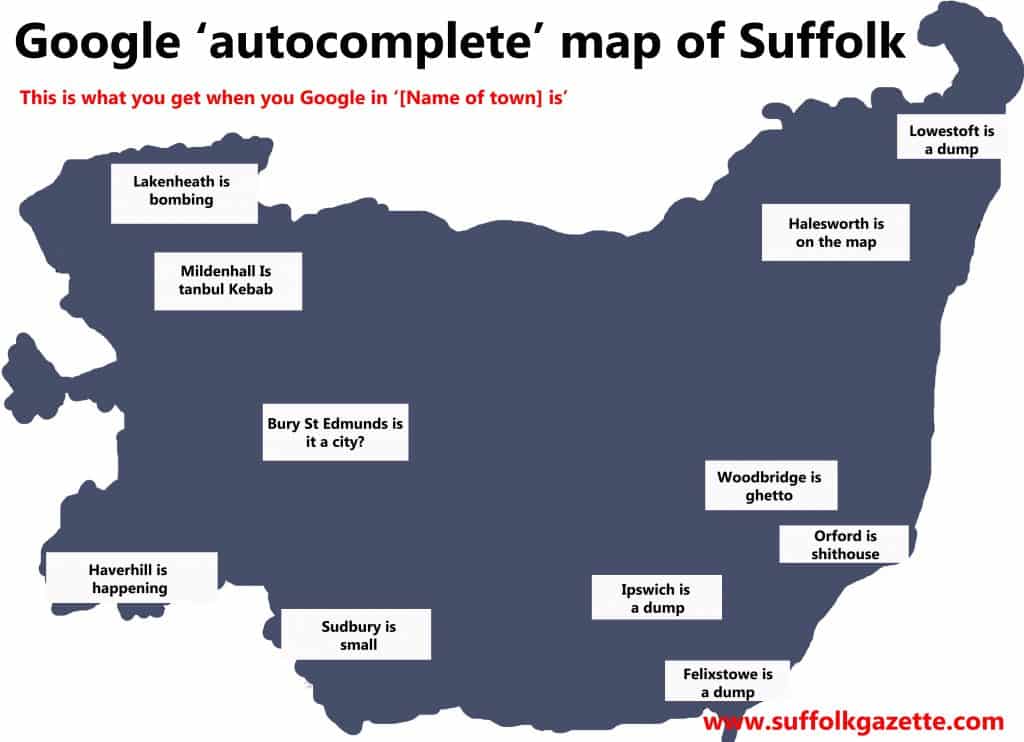 Not great: Google's suggestions for Suffolk towns do not paint a good impression
Here is the list of town's and descriptions we discovered on Google, where the autocomplete suggestions are based on search term input from other Google users…
Ipswich is a dump
Felixstowe is a dump
Woodbridge is ghetto
Lowestoft is a dump
Bury St Edmunds is it a city?
Sudbury is small
Lakenheath is bombing your
Haverhill is happening
Halesworth is on the map
Mildenhall Istanbul Kebab
Orford is shithouse
Happily, typing in 'Norwich is' results in 'Norwich is inbred'. And on that bombshell, Google has redeemed itself in the eyes of the Suffolk Gazette.
Please support my running costs by clicking here and buying me a beer!