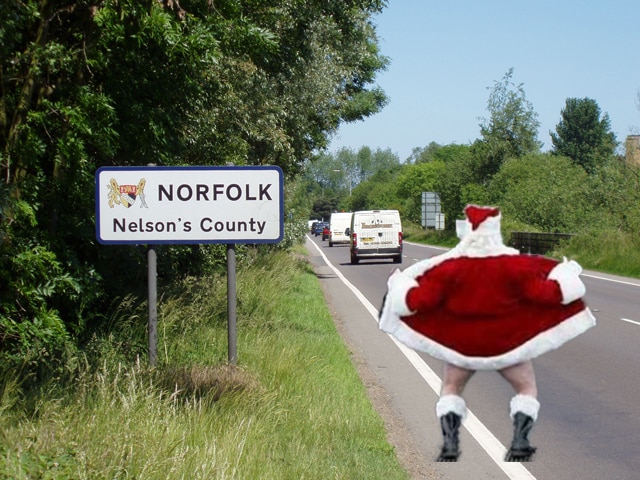 By Ian Bred, Norfolk Correspondent
Controversy surrounds the release of the Suffolk Gazette's Christmas TV advert, which features a rude Santa called Wang the Monster.
In the ad, released this morning, Father Christmas is seen giving a cheeky message to Norfolk at what is meant to be a time of goodwill to all men.
Wang opens his famous red coat on the A140 at the Norfolk border and displays his Christmas baubles for all to see.
The endearing scene is accompanied by the Flash soundtrack by Queen and ends with Wang hiding under the bed of a distressed child from Norwich.
But the po-faced people of Norfolk have taken offence to the advert and called in television standards watchdogs to investigate.
Wang may now be pulled off television screens on the first day he was aired in public.
But he has already become a social media sensation, with the hashtag #WangtheMonster trending on Twitter all morning.
A spokesman for the Suffolk Gazette said: "We like to embrace the spirit of Christmas, and that includes extending our good wishes to our neighbours over the border in Norfolk.
"Wang the Monster is a friendly Santa who likes to show off his sack, but it seems not everyone approves.
"This is typical of the humourless people who live in Norfolk, the county which butchers millions of Christmas turkeys each year."
Retailers such as John Lewis are now considering removing Wang the Monster toys from its shelves.