By Colin Allcabs
Consumer Correspondent
Following news that Manchester United star Bastian Schweinsteiger may sue a toy manufacturer because their Nazi doll looks just like him, the Suffolk Gazette can reveal football manager Mick McCarthy has also called in the lawyers.
German international Schweinsteiger, 31, made the news today because his lawyers are looking at the Hong Kong maker of a WW2 Wehrmacht veteran toy, complete with a swastika-bearing eagle on his uniform, which bears an uncanny resemblance to the footballer.
The Nazi soldier at the centre of the scandal is even called Bastian
Bastian Schweinsteiger
Now we can reveal McCarthy is concerned his image rights have been violated – and people may think he is a muppet.
An Ipswich insider said: "Ipswich are going through a poor run of form at the moment, and Mick heard one or two cynical supporters in the crowd calling him a muppet. When he looked up the word on Google he saw an image of Sam Eagle and saw the similarity too.
"He will listen to his legal advice before deciding what to do next."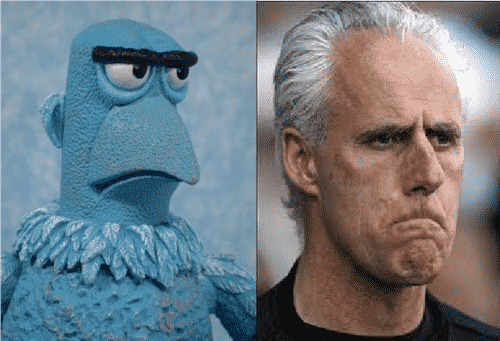 McCarthy and Sam Eagle
* * * *
Like The Suffolk Gazette on Facebook now!
Please support our running costs by clicking here and buying us a beer!
Advertise on the Suffolk Gazette – click here for (very cheap) rates