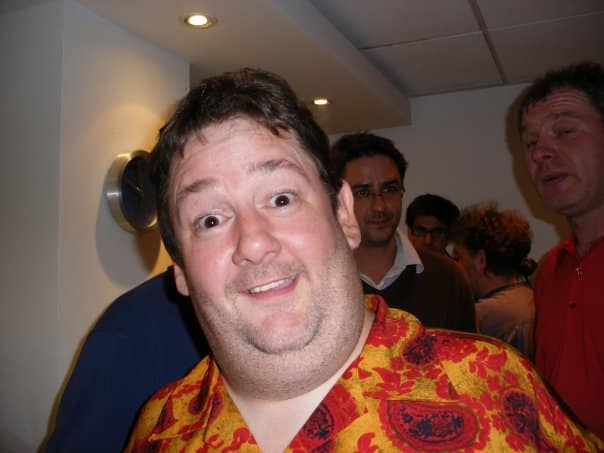 Famous St Helens rugby league fan and comedian Johnny Vegas will be named in the starting line-up alongside his heroes in this season's Super League Grand Final, as the club look to make a contest of a game that otherwise wouldn't be.
St Helens reached their first Super League Grand Final since 2014 by thrashing reigning champions Wigan, their third victory over the Warriors this season. If there was any doubt as to just how big a gap there has been between the Saints and the rest of the league this season, they never looked worried against the league's second-best side during their easy win.
Vegas, a lifelong Saints fan, made an off-the-cuff joke to club officials after a long lunch – one which will now see him line up at hooker in this season's Grand Final. The 49-year old may not have the pace he was once blessed with, something that came in useful during his time as a door-to-door boiler insurance salesman, but the thought is that Vegas' experience will see him hold his own against players half his age and double his muscle mass.
Having made his debut for Saints in 2005, when Vegas appeared in Kieron Cunningham's testimonial, not to mention Sky 1's Duck Quacks Don't Echo, the occasion isn't something expected to trouble the veteran. What will likely give St Helens' opponents a chance will be later in the game when Vegas may tire, but when you look at this season it's likely the gap will be big enough by that point that it won't stop Saints from lifting the trophy.
St Helens, who are now as short as 3/10 to lift the Super League Trophy with the latest rugby league odds, may well be one of the best teams we've seen in this league for a while. So much so that there are rumours beginning to circulate suggesting other celebrity fans, actor Ricky Tomlinson and darts player Stephen Bunting, could be named on the bench by head coach Justin Holbrook.
The Australian, who will return to Australia to join the Gold Coast Titans at the end of the season, has always wanted to go out on a high, which could now mean Jim from The Royle Family scoring a last-minute, field-length interception.
While fairness isn't applicable in sports, this St Helens team has ticked every box this season and couldn't be in a stronger position heading into this crucial part of the campaign. With Vegas, and potentially Tomlinson and Bunting, in the team, you'd have to say St Helens won't be quite as strong as they have been for much of the season.
But based on just how big a gap there is between Saints and the rest of the league, you'd have to say it will probably take a lot more than a couple of overweight middle-aged men in their midfield to weaken this team enough to give their opponents even a sniff of walking away from Old Trafford with as champions.