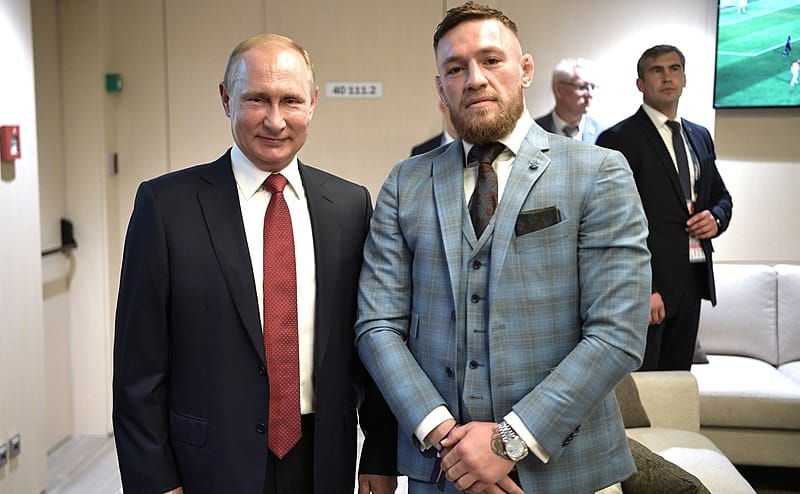 It is incredibly heartening to see more and more celebrities being given short shrift these days. Every cloud has a silver lining and if the world staying at home is the price we all have to pay to finally realize what morons these people are, then it was worth it. In fact, Gal Gadot's video of Imagine where all her celebrity mates chimed in to sing was undoubtedly the worst thing to happen to the world in, well, an incredibly long time. 
These personality vacuums are being found out one by one and really, they should all try and take a leaf out of the book of a certain MMA fighter who goes by the name of Conor McGregor. Naturally, The 5' 9" Irish fighter does everything he can not to end up in the limelight as he sticks rigorously to a sober lifestyle.
Oh no, you won't hear a peep out of the man that they have someone unfairly nicknamed the 'Notorious' when he's outside the ring. A lot of the time actually, McGregor, in his charitable way, visits the local pubs in his area and engages with senior citizens in a convivial way that all aspiring athletes can look up to.
Altercations just aren't his thing and neither is flaunting all the money that he has made from bravely fighting in the Octagon. It has to be said that McGregor doesn't come from any sort of money and that in itself deserves huge praise given how well he has handled the seismic change in his life. A lot of the time, celebrities are cruelly dubbed as 'new money', by ironically enough, the desperate bourgeoisie who all follow them on Instagram.
This is somehow meant to be a dig at their lack of class, you only need to have a look at these Premier League players and their cars to understand what they might be hinting at. 
Sure, Conor takes a picture of himself next to piles of money and uses a brick of cash as a phone, but that's all been misinterpreted, at the end of the day, he really is a man of the people. Just ask the kids who have had their phones slapped out of their hands as they pleaded for the millionaire to take a moment for a selfie.
Carrying on, professionally, he seems a joy to work with as the UFC boss Dana White is always singing his praises. It was just a few weeks ago where White was moving heaven and earth to find an opponent for Tony Ferguson when the Notorious threw his hat into the ring and insisted he was in shape to fight.
The UFC president was so impressed by McGregor's willingness to answer the call and given how easy he has been to manage in the past, he promptly decided to hand the fight to Justin Gaethje instead. Sure, sense prevailed and UFC 249 was eventually called off but you have to wonder when the 31-year-old will be given his chance in the Octagon again.
Currently, there are no UFC betting odds available here that have McGregor down for a fight but there are a handful of bouts still to bet on. You may say that has more to do with the season being on hold than anything else, but you do get the feeling that patience in McGregor is running out.
Then again, playing the mongrel has made McGregor one of the wealthiest sports stars in the world so we shouldn't hold our breath for that to change anytime soon.
All things considered; can you think of a better sporting role model around the world? I didn't think so.