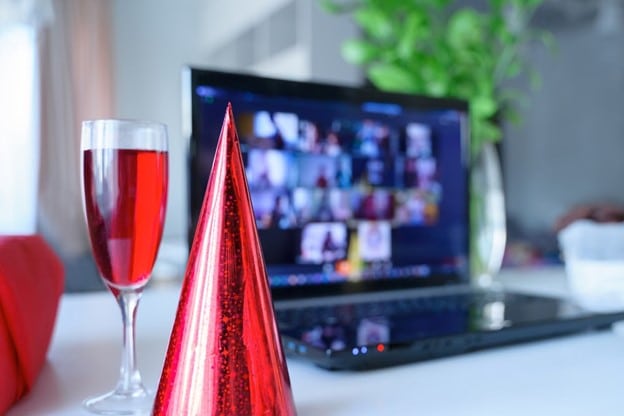 To put it mildly, this year has been a rough one, and if your team has kept their energy up and their focus on, they could definitely use a great holiday party to end the year off on a positive note.
However, there's one major problem: you can't have any big social gatherings, so your usual traditions and go-to ideas are out the window. So, does that mean you have to skip your annual holiday party? No way! You can still throw your hardworking employees a memorable holiday party, you'll just have to do it virtually. 
Don't be intimidated by the change in venue, use this guide to help you figure out how to throw a virtual holiday party for your employees that they'll be excited to attend.
Figure out the logistics
Just like your usual holiday party, you need to figure out logistics first. Find out what day everyone (or as many employees as possible) is available. This should be a fairly easy one to check off your list since everyone's working from home, but you never know what people have going on in their personal lives, so it's important to set a date well ahead of time if possible. Send out a survey with possible dates to see which one the most people can attend and get it on their calendars. One easy way to make sure almost everyone can attend is making it during normal work hours. Plus, it's an extra nice treat that they get to cut the workday short and let loose. 
Another thing to keep in mind is that you need to figure out which video conferencing tool to use and make sure everyone has the link and knows how to log on. Including these details in the event invite will help prevent a lot of problems.
Lay out the details
Once you have the date and virtual hosting location squared away, it's time to figure out what you'll do at your virtual holiday party. Relying on conversation, no matter how close your team is, can result in awkward lulls and a lack of that party feeling. Instead, plan some activities to keep up the enthusiasm and make the party memorable. Some fun virtual holiday party activities include:
Holiday movie trivia
Guess that song
Karaoke
Cocktail making (send out these cocktail kits by Griffo Distillery ahead of time)
Cookie-decorating contest
Best holiday decor contest
Wine tasting and cookie pairing
You can also curate a holiday playlist you can stream while online—just make sure that as the host you're the only one playing it, otherwise it can result a commotion of off-time tunes.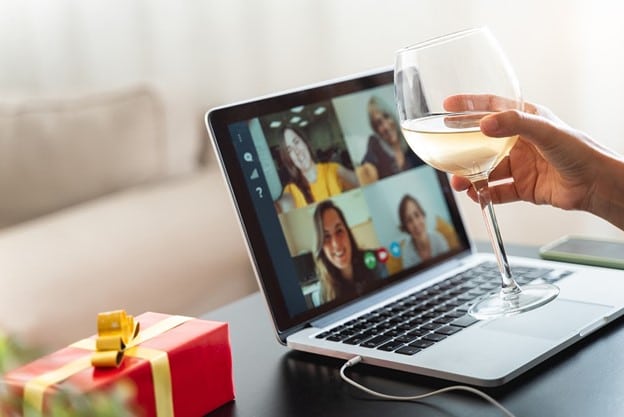 Encourage employees to dress for the occasion
Depending on the culture at your company, this might mean getting dressed up in your dazzling holiday wear or have everyone wear their best Tipsy Elves Christmas sweaters. You can even have prizes for best dressed, like awarding the top three best ugly Christmas sweaters. Having everyone dress in a theme can make it feel like a more formal event and really get your employees in the festive spirit. Add another element of fun by encouraging pet owners to dress up their pets in festive party hats, sweaters, and more.
Send out party swag 
If you can swing it with your budget, send out some holiday party swag to your employees. This could be anything from sparkly party hats and champagne flutes with the company logo to a food and drink delivery, so everyone can enjoy a meal or cocktail together like you would usually. The sky's the limit with the kinds of fun party favors you could send out, so get creative and think of something that would add to the festivity of the event.
You could also send out gifts to each employee to show them your appreciation for putting their best foot forward during this difficult time. This could be anything from cash and gift cards to edible gifts, like some delicious decorative or branded cookies from Custom Cookie Co.
When it comes to virtual holiday parties, your imagination and creativity will play a large role in pulling it off. Approach this new challenge as an opportunity to create an unforgettable party that will hold its own with years prior. Once all the hard work is finished, you'll be able to enjoy the fun with everyone else and take pride in the special event you've put together for your team. Plus, everyone who sees that your company goes above and beyond for your employees will be dying to work there—something that makes recruiting a lot easier!