Exclusive
By Doug Trench, Defence Editor
Hans Up, the German World War Two veteran found living in a Suffolk forest last month, is to get his own survival-style television show.
The 90-year-old former Nazi soldier was shot down over the Suffolk coast in 1944 – and had been hiding out in Rendlesham Forest ever since.
But as our exclusive German WW2 soldier found living in forest story revealed, he was eventually found asleep in a hammock by a group of local primary school children.
Hans Up's amazing survival skills and ability to remain hidden sparked a huge bidding war from TV, film and book publishing moguls.
Now the Suffolk Gazette can reveal he has signed up for an eight-part television series spanning all he learned during 70 years of seclusion.
Bear Grylls
The deal, which will make him more popular than Bear Grylls, will earn Hans Up £4 million. The sum is believed to be the same as the German army pay he has missed out on since he went into hiding, still believing the war was on.
It is understood a book deal will follow, while Hollywood's biggest studios are also keen on snapping up his story.
The TV show will begin filming this summer, once Hans Up has finished recuperating in the German Embassy in London, and got used to all the modern gadgets like computers that he is seeing for the first time.
Episodes in the series, to be aired on BBC 1, will concentrate on catching and cooking wildlife, making secret dens, avoiding angry Suffolk farmers, sleeping in trees, and keeping German army boots polished in all conditions.
A spokesman for Nice Activity Zoom International films, said: "We are delighted to have signed Hans Up, er, up. He is still in great condition despite his age, and his story is inspirational.
"Everyone wants to know how he stayed alive and hidden for so long in a Suffolk forest. His survival story also has the potential to save lives – you never know when you might get lost in a forest."
The NAZI spokesman would not confirm the fee payable to Mr Up, but the Suffolk Gazette understands it is at least £4 million.
Hans Up's story gripped the world when we revealed his discovery last month.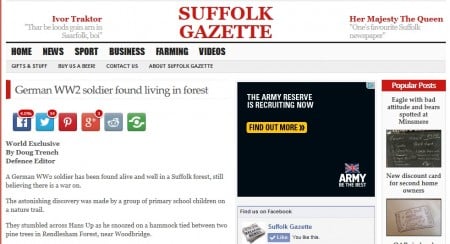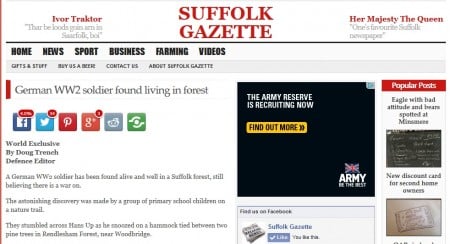 Exclusive: How the Suffolk Gazette revealed Hans Up's forest discovery
We were flooded with messages of support for the former soldier who was baffled by the modern world upon his discovery.
Amazingly, some readers claimed the Suffolk Gazette had in some way made up the story, or at least put a little too much spin on it.
But our Editor insisted today: "Every bit of it was true. Some questioned why the picture taken of Hans Up when he was caught was in black and white. Well we proved the local kids who found him put a cool filter on their shot to make it more moody.
"Other people said Hans could not have ejected from the bomber when it was shot down, because the ejector seat had not been invented in 1944. But our research found Hans and the rest of the crew were trialing a forerunner of the ejector seat, which had been developed personally by Adolf Hitler.
"Lastly, others claimed it was ridiculous Hans was in a German soldier uniform, when we had stated he was in a Luftwaffe bomber. But Hans himself has confirmed to us that the uniform change was intended to confuse the enemy should he be caught – and it clearly worked."
Hans Up gives himself up to Melton school children last month
Meanwhile, Hans Up has fallen back in love with football, a sport he used to enjoy playing in his barracks. He has taken to supporting Ipswich Town, a team which, unbeknown to him, played just down the road from where he was hiding for 70 years!