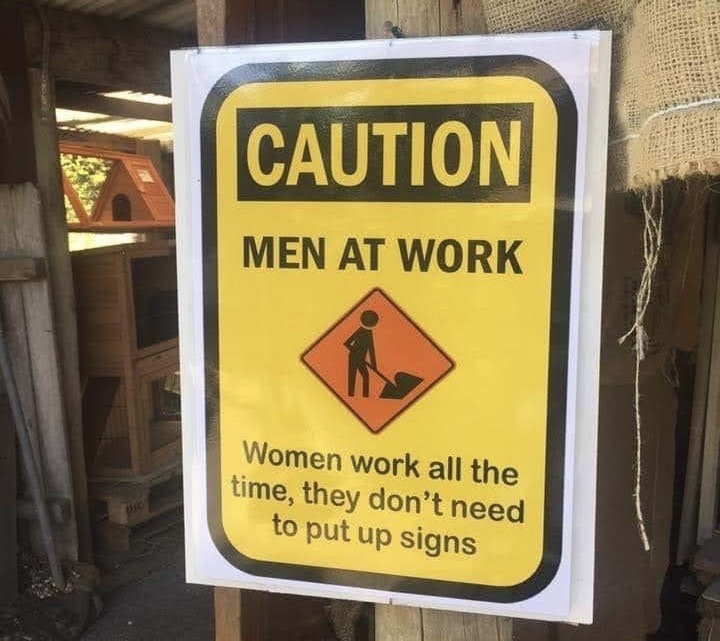 A poster campaign organized by the secretive Suffolk feminist organization 'Yeast Angrier' has been raising eyebrows,.and a few laughs, in various male-dominated locations across the region.
Pubs, betting shops, greasy spoon cafes, football stadiums, and plant hire shops. have all been targeted by the campaign group whose message, 'F*ck off, men!' is gaining widespread local support – among men.
Feminist misconduct
In a bid by the group to confront men with their own gross misconduct at home, and in the workplace, posters including legends such as."If you're going to piss on the toilet seat then just PISS OFF!", and "Leave a pube on the soap again and it will be the last one you owned", have been popping up in numerous locations usually frequented by males,
Unfortunately, in creating some wonderfully comical, misandristic one-liners, Yeast Angrier which is believed to comprise a ragtag bunch of hysterical students,. lesbians, eco-warriors, and other feminazis, has, rather than offended men, mildly amused them – in an incredibly humbling and self-patronizing way.
Men Only
We asked some beefy, dust-covered, white van men outside of HSS plant hire in Woodbridge,.what they thought of the various posters plastered over the shop's windows. Referring to the "It's fine. Leave your pants on the floor – next to your brains." poster, plumber, Dave told this reporter "Ha ha. Yeah. It made me giggle. I bet some cutie with a nice tight arse stayed up all night thinking of that one!"
The Testimony
Commenting on the billboard inquiring 'Darling, what time does the football end?' Harry, a local scaffolder said 'Yes. I can see what they've done there. The clever use of the opening sarcastic term of endearment to disarm the reader,.and create contrast with the bitingly vitriolic reference to another Sunday afternoon being ignored by a sexually lackluster and inattentive husband at the end, is subtle but, in my opinion, extremely effective. A woman wrote that you say?'
Well, there we have it. Militant women… you have men's approval!
We approached Yeast Angrier for comment resulting in the following exchange:
SG: Any comment on the positive response your campaign has received from men?
YA: Are you a man?
SG: Well, I am, yes.
YA: F*CK OFF, MEN!