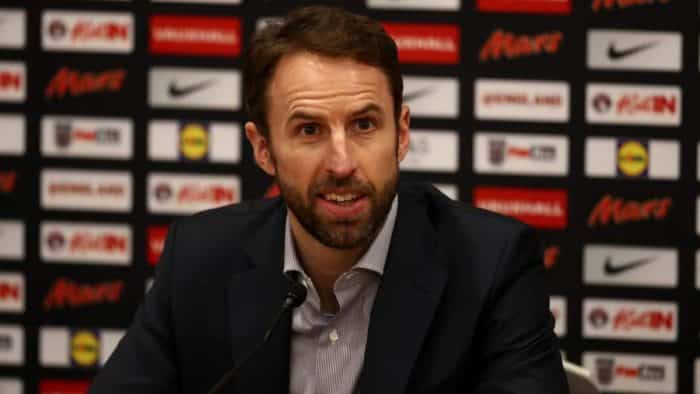 Gareth Southgate has today named Fear, Abject-Failure and Useless in his 26-man England squad for this summer's European Championships.
He has gone for experience as he tries to manage the expectations of fans ahead of the tournament.
Fear and Startled will form the backbone of the England defence, while Useless, Dim-Wit and Feckless will be expected to score the goals to propel England to Euros glory for the first time.
The midfield engine room will be masterminded by veteran team captain Abject-Failure, who will run around alongside Panicky and Spineless.
Unveiling his squad at a press conference at Wembley, Southgate said he would be sticking with his tried and tested goalkeeper, Bottler his number one choice.
But second-choice keeper Butterfingers is expected to keep Bottler on his toes.
Southgate, 50, said: "Everyone knows what England fans expect of us, especially as all our group games are at Wembley.
"We have reputations to uphold and I have picked what I believe is the best 26-man England European Championships squad to enable us to crash out at the group stage as usual."
The Three Lions have been drawn in Group D along with the mighty Scotland-Nil, Croatia, and the Czech Republic.
It is widely expected they will only manage a draw against Scotland and lose to Croatia and the Czechs, with Dim-Wit missing a last-minute penalty to save the day.
Skipper Abject-Failure, who has already won an amazing 545 caps for England, said: "We go to into the competition knowing what we have to do. England expects."
England World Cup squad
Manager
Gareth Southgate
Goalkeepers
Bottler
Butterfingers
Defenders
Fear
Botch
Collapse
Anxious
Good-For-Nothing
Startled
Coward
Midfielders
Abject-Failure (captain)
Panicky
Spineless
Deficit
Aghast
Futile
Crumble
Fall-Short
Sissy
Attackers
Feckless
Dim-Wit
Useless
Failing
Inept
Physio
Lorraine Fisher, 34.
Buy a mug to enjoy while watching the football
No football tournament is complete without a mug. Okay, we made that up. But you get the idea – buy one of our cool Suffolk Gazette mugs from DirtyOldGoat.com or from the items below…