EXCLUSIVE
By Ruth Tyler
Property Correspondent
A Dubai-style beach resort is being planned for a derelict island on Ipswich Waterfront, the Suffolk Gazette can reveal today.
Developers believe the ambitious project, including upmarket hotels, golden sands and even a giant wave machine will transform Ipswich into the UK's premier beach holiday destination.
The proposal, shown exclusively to the Suffolk Gazette, would be part of the £100million wet dock crossing scheme that aims to reduce crippling town traffic and develop the waterfront Island site for leisure use.
Detailed plans show a 20-acre island paradise made up of four exclusive hotels, with private beaches and palm trees.
A wave machine would be installed at the mouth of the New Cut just alongside the tidal barrier. Costing £50million, it would be the largest in Europe and likely be a big hit with paddlers and surfers alike.
Mr Tony Trimble, CEO of Suffolk Island Enterprise said: "We're very excited. We're not talking about a temporary sand pit like the ones seasonally shoved on the shores of the Thames near Tower Bridge, or in the centre of Bury St Edmunds.
"Using the latest technology, these will be beautiful beaches with golden sands and coral lagoons. It will feel like you are in Dubai, not Ipswich."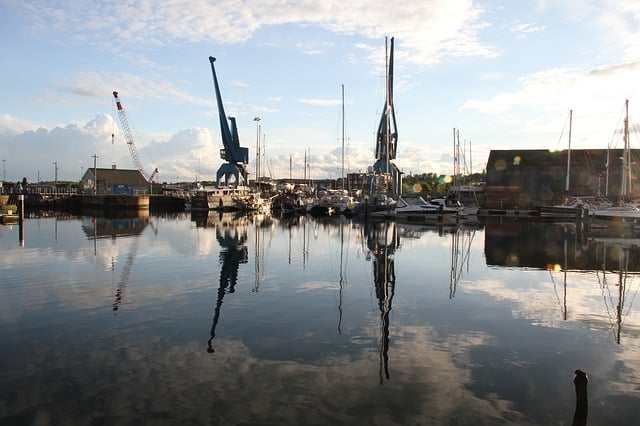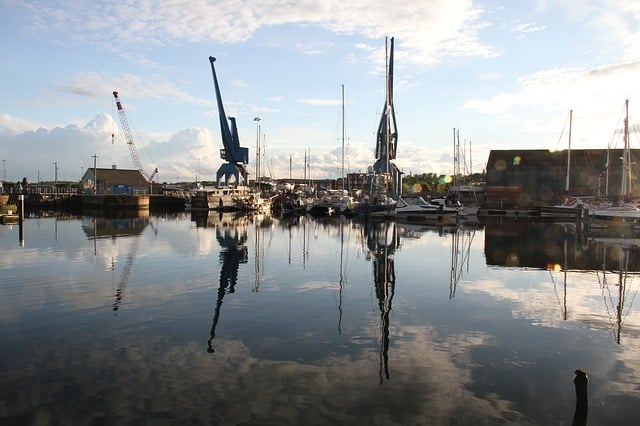 A grey part of Ipswuch Waterfront would go from this…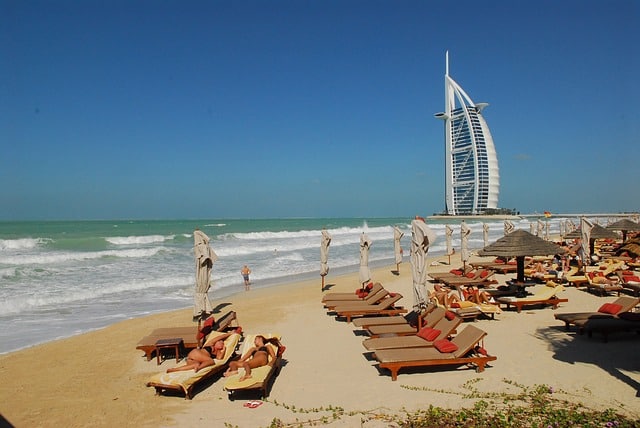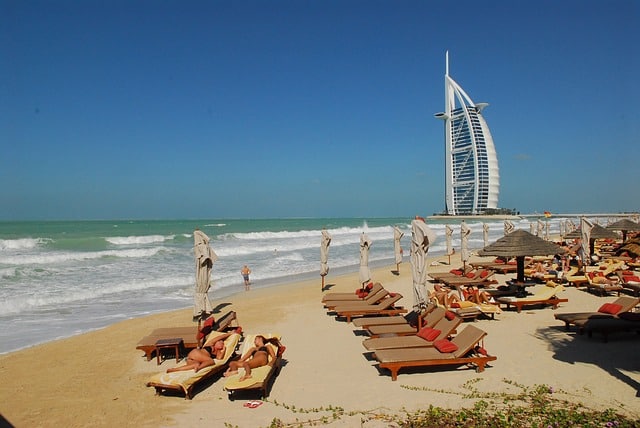 … to a beautiful beach paradise like those found in Dubai
Most of the upmarket island retreat would be reserved for the rich and famous looking for cheaper alternatives to Caribbean beach hotels, but Ipswich people have been assured there will be a place in the sun for them.
"Yes – well sort of," Mr Trimble said.
"A smaller communal north-facing beach area at the Stoke Bridge end will be split off from the rest.
"And while that may be less glamorous, Suffolk holidaymakers will still be able to enjoy donkey rides, ice-creams and sandcastles. Planning permission will also be sought for 30 beach huts."
Mr Trimble said he was "unconcerned" about suggestions that the island resort would have a negative knock-on effect on the Felixstowe tourist trade.
"Let's face it, Felixstowe – like Aldeburgh and Southwold – will eventually go the same way as Dunwich. It will be eroded away by the sea before long.
"Ipswich needs to literally step up to the water mark now and prepare itself as East Anglia's – if not the UK's – premier beach location."
Hotter than Felixstowe
Ipswich tourist chiefs feel that the town's inland location is a big plus as it is usually a few degrees hotter than Felixstowe. They are also buoyed by news that the Ipswich seagull population already surpasses its coastal neighbours.
A retail consortium representing the town centre's 14 pound shops are gearing up for a booming tourist trade and are looking to stock up on cut-price beach wear, buckets and spades.
A spokeswoman said: "Our suppliers in the Far East have already created a 99p bikini and a snorkel for a pound."
And the local Chamber of Commerce is confident the scheme would provide a huge boost to job hunters looking to become deck chair wardens or Punch and Judy puppeteers.
Fears by nearby Felaw Street residents that the island would turn into a tacky drink-fuelled , sex-crazed 18-30 Ibiza-styled resort have also been allayed.
"Remember, this is mainly going to be a selective resort," Mr Trimble insisted. "If people want sleaze and tack then we will sign-post them to Great Yarmouth."
The beach island will be the first of its kind in the UK, although the Suffolk Gazette understands that a similar scheme is being considered for Coventry.
* * * *
Like The Suffolk Gazette on Facebook now!
Please support my running costs by clicking here and buying me a beer!
[olimometer id=1]