By Arthur Pint
Entertainment Editor
The Suffolk Gazette can today expose one of the biggest show business cover-ups of all time – Kate Bush and Delia Smith are the same person.
Norwich City owner Delia, who lives near Stowmarket in Suffolk, found fame as a television chef, but really wanted to be a pop star.
So back in the 1970s she put on a long, bushy wig and invented the Kate Bush character, and until today fans of both were fooled.
To prove our astonishing revelation, we scoured the internet and could not find any examples of Delia Smith and Kate Bush being in the same room together.
Delia Smith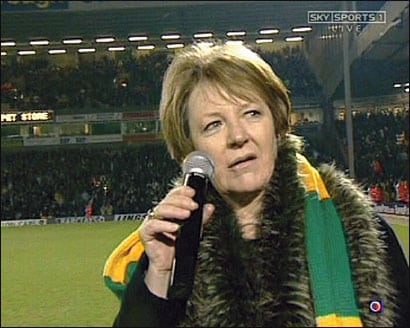 Kate Bush
A showbiz insider said: "It really is remarkable that Delia was able to find fame and fortune not once, but twice.
"And it's even more amazing that she has led a double life all this time without anyone guessing. Until now.
"But in hindsight the clues were there all along. When Delia famously took to the pitch at half time at Norwich and yelled at the fans down the microphone, she struck a pose very similar to Kate.
"And Kate's so-called career break coincided with Delia spending more time trying to make Norwich City into a famous football team.
"Now the secret is out, so let's hope Delia takes to the pitch again and gives us all a rendition of Babooshka and Running Up That Hill."
Delia Bush refused to comment.
Like us on Facebook: