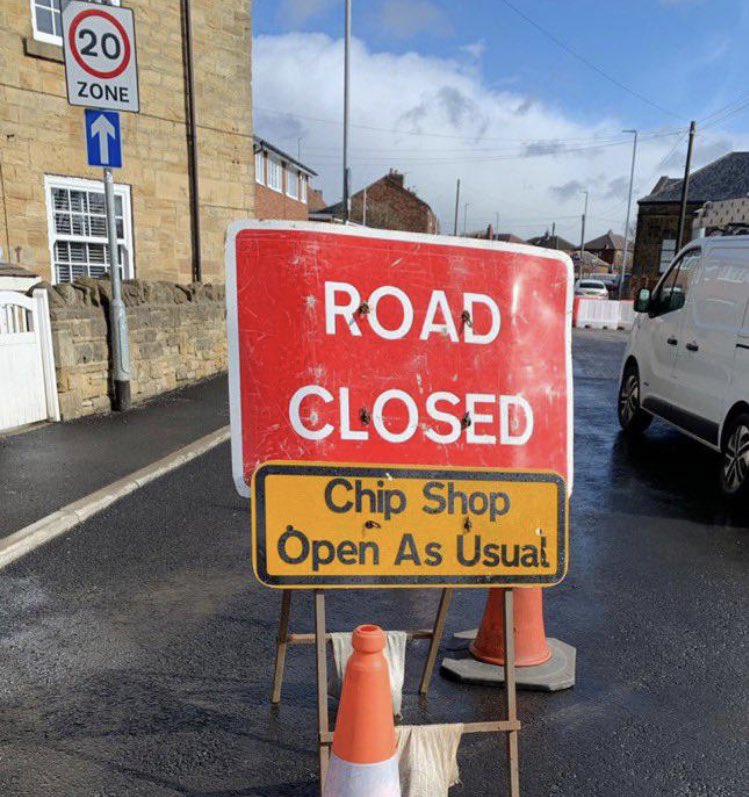 In an age when the certainties of the past can so seldom be relied upon, thank God (can we still say that?) for the Great British chippy (Chip Shop).
Through the thick and thin of war, famine, Brexit, postal strikes, rail strikes, nurses strikes, inclement weather, disease, poverty, the endangered status of the Sumatran tiger, and institutional racism within the Ghanaian Royal Family (terribly black balcony), the chip shop down the road is always there, ready to serve up delicious, golden, chipped King Edwards, and battered cod – as white as Adjoa Andoh's worst nightmare, and as delicious to us Brits as it is to all the Pollock in the sea.
Praise be to British fish & chips! (Am I still allowed to say that?)
Britannia rules the waves
Not even road closures can come between a Brit and their fish supper. If we have to leave the car on the drive and actually walk to retrieve our Friday dose of grease, we will… and nobody can stop us.
For fish and chips is a birthright of the British. We are synonymous with it, and it with us, and everybody knows it. Just like black taxis, red buses, or the Queen, whoops! King, people all over the world acknowledge that when it comes to eating smelly, oversalted, greasy food from a sheet of yesterday's well-thumbed newspaper, no-one does it quite like the Brits.
And for most of us, that's about as good as it gets – but it's enough. Whatever the real reason for the British tradition of eating fish on a Friday, part of it is that our much-loved fish tea is a treat. A reward, for all the crap we have to put up with during the rest of the week.
Queuing for fish and chips, for that is what can be witnessed in every village, town, and city across Britain on a Friday evening – queues of people waiting in line patiently to be served – is akin to queuing for tickets to the theatre, or to meet a famous author, or to ride on a Ferris wheel, yet without the impatience or mild annoyance that goes with the latter. Queuing for fish and chips (or a pie, saveloy, or sausage in batter, if that's what you fancy) is a pleasure and a privilege that all who partake in, enjoy – thoroughly.
So a word to the wise. For all you woke warriors out there, waiting for an opportunity to find a problem with this one, enduring and cherished British tradition – keep your greasy hands off!