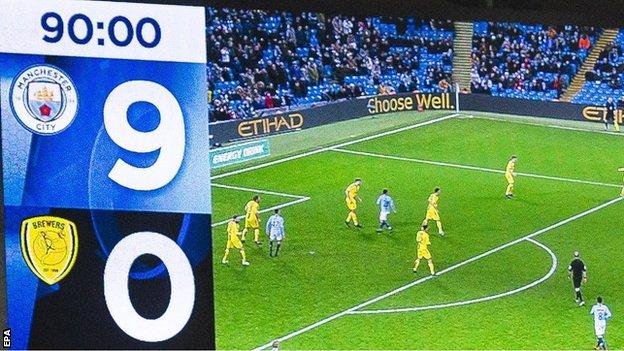 Cup minnows Burton are confident they'll overcome a 0-9 deficit to giants Manchester City in the second leg of their League Cup semi-final.
The League 1 side were thrashed at the Etihad Stadium last night. Up 4-0 at half-time, City went on to score another five in the second half romp.
But Burton fans feel they have a "great chance" of scoring at least ten without reply when the Premier League champions travel for the return leg later this month.
Supporter Lorraine Fisher, 34, said: "That's the thing with semi-finals played over two legs. You never know what's going to happen.
"Plenty of teams have lost the first leg away, only to win the second home leg and go through to the final.
"All plucky little Burton need to do is score ten goals in 90 minutes against a Manchester City team that has only let in 17 league goals all season.
"It won't be easy, but we're confident of causing an upset."
The replay will be at the Pirelli Stadium, where the capacity is just 6,900.
There is no suggestion that Pirelli sponsored Burton because the players were "worn out" and had skid marks in their shorts.