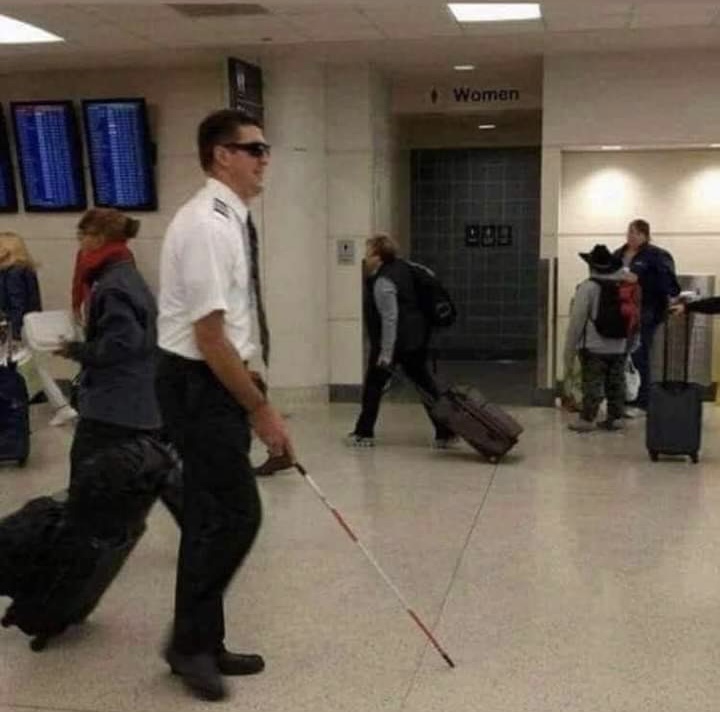 An equal opportunities landmark was reached in the European Court of Human Rights and employment tribunal. Wrongs this week with a victory by blind and partially-sighted airline pilots and cabin crew.
The class action brought by 21 (as good a number as any) previously grounded crew, succeeded on the grounds that, in the words of the panel of 17 judges 'equality should always trump reason where minority rights are at risk.'
Blind to the truth
Employment tribunal Judge Grayson Bartholemew-Trinket (101) speaking for the grand chamber said in his summing-up "Errr? What was it again? Yes, yes, yes… blind RAF? Yes, of course. Where the appellants argued that a lack of vision is not an impediment to seeing what is in front of one's face, they were correct in doing so. Errr, err, err in fact, that is precisely the basis upon which this grand chamber has reached its decision. NEXT!"
Employment tribunal ruled
Peter Paulson, a pilot with 734 hours of flying training spanning 26 years, and the lead appellant in the action, spoke to the press pack outside the Strasbourg court. "Sorry… where are you? There? Ok.
Today justice has been done for all those fliers who have up until now, had their dreams, ambitions, and careers hampered by out-of-date and discriminatory legislation.
Like a number of my fellow partial or unsighted pilots, cabin crew, and ground staff, I have for many years, dreamed of soaring like a blind bird, high above the clouds, somewhere between the sun and the earth.
Today, well tomorrow, or soon at least, thanks to those 17 clever European judges in there (pointing to a telephone box across the street). I, we (pointing to some children playing with balloons nearby), will be able to realize those dreams."
First crash
Asked by this reporter to explain more about his experience, training, and flight readiness, Mr Paulson replied "Yes. Well, I have flown replica model aeroplanes ever since I was a kid.
My father used to take me out on Sunday mornings to Ballingdon Hill. I started with the basic balsa wood gliders but on my 12th birthday, dad bought me an Acro-Wot radio remote-controlled fuel model.
I was overjoyed. It had red wings (according to my dad) and a cute little carved pilot. I had hours and hours of fun flying it with him! Actually, it was only half an hour as I crashed it into a tree and it caught fire. The tree as well. According to dad."
Employment tribunal does it again!
Upon hearing this, a sense of unease rippled through the press pack and another reporter asked if he had any experience flying 'real' aeroplanes. "Ha ha! Yes, of course! When I was 13, Mum and dad took us to Spain, and because I'm blind I got to go up into the cockpit and have a feel around. The pilot even let me handle the controls, or joystick, or whatever it's called for three seconds. It was awesome!"
Mr Paulson's first flight for Phoenix Airlines is expected to take place next week. Watch out below!