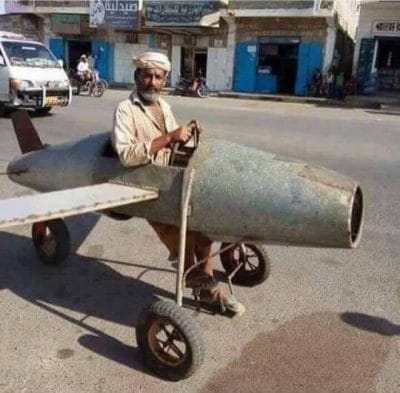 By Doug Trench, Defence Editor
Britain's military chiefs have already identified where they want to spend the £16 billion extra budget announced by the Prime Minister.
They say the new Norfolk-built Blakeney Bomber will make the RAF the envy of the world.
Each hi-tech jet costs a staggering £400 million but will beef up the country's military capabilities.
The Blakeney Bomber is developed by Spuckler Industries, one of Norfolk's biggest employers – it has three people.
CEO Bubba Spuckler told the Suffolk Gazette: "Our jet is bootiful. I spoke to that nice Chris Grayling and he said he would recommend to Boris Johnson that the Government buys 15 of them."
But aviation experts are not sure the Blakeney Bomber is well equipped for modern warfare and defence duties.
"For a start," said military consultant Lorraine Fisher, 34, "the bloody thing can't even get off the ground."
Others believe Boris Johnson's administration should be trusted to make the right spending choices. Steve Walshe, a conservative councillor, said: "The Blakeney Bomber looks an exciting piece of kit that any nation would be proud of.
"It will be imperious over the skies of Britain, once they develop an engine."