Storm Katie prevented us poor plant lovers from the usual Easter jobs in the sunshine or visits to garden centres. I haven't had such a blowy weekend in many a year.
It was a pity not to get well stuck into My Lady Garden but instead, I settled myself in my armchair with a bottle of Prosecco and flipped through some seed catalogues.
My method is to fold the bottom of the page I'm interested in into a little triangle. The more Prosecco I drank the more the corners got turned up until there were no unfolded pages at all. But what treats I have in hand for you all!
[AdSense-A]
After the Prosecco bottle was drained I poured a nice cold bottle of Aspall Isobel's Berry Suffolk Cyder then thought "bugger the weather" and staggered through the rain to the greenhouse to see to my seedlings.
You will find they are very fragile at the moment: the stems are like that cress you get in old-fashioned sandwiches at bus terminals. Watering them brutally could kill them so you need a gentle spray. I didn't have a water bottle, but the Prosecco and Cyder focused my thoughts to a genius idea which I am sharing with you now.
To make your own water bottle, simply reach under the sink and take out a bottle of Flash Spray Bleach (a Febreze bottle works just as well). Tip the contents down the sink, rinse the bottle out and fill with water. Then make a label and Sellotape it on like the one in my photo below. Don't worry if it's not as good as mine. It works just as well as a custom-built water bottle from Wyevale and you will have the satisfaction that you made something yourself and saved money.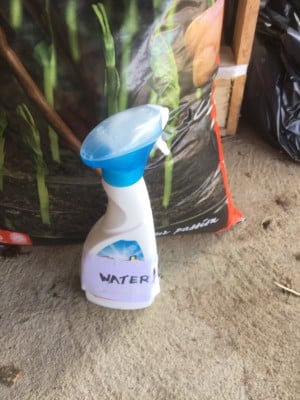 My hi-tech, money-saving water bottle
I thank you for all your kind comments after my first In My Lady Garden column appeared last week in The Suffolk Gazette. You are far more inventive than the readers of my previous gardening column, Up the Lady Garden in The Daily Snail.
I cannot answer all of your problems personally but the following replies cover many of the subjects you are worried about …
* ROSEMARY, from RINGSHALL: Yes, you need to give your Rosemary bush a good seeing to as soon as possible to prevent it going even more straggly. Go at it hard with the trimmers. It will need another tidy-up in a few months.
*RACHAEL A: It can be really difficult to achieve perfection in the garden when you suffer from arthritis, but don't be too anxious. If you have such trouble reaching those little crannies, why not get someone else to do it for you?
*MR S.H. from NEEDHAM MARKET: Those smelly flies of yours need to be dealt with before the weather gets warmer. Have you tried squirting them with Lynx For Men?
Have a good week.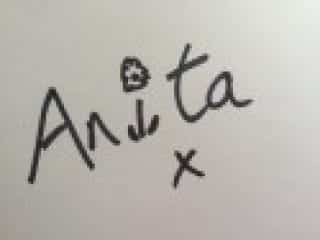 Like The Suffolk Gazette on Facebook NOW!
Please support my running costs by clicking here and buying me a beer!
[olimometer id=1]