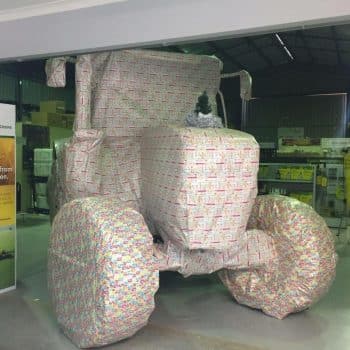 Retailers have given the Suffolk Gazette a tantalising glimpse of the county's best-selling toy this Christmas.
But to save ruining the big day for tens of thousands of local children, they have kept the mystery toy in its wrapping paper.
Lorraine Fisher, 34, of the Suffolk Retail Consortium, said: "It's been a case of jingle tills this year as parents have been splashing out on the best-selling Christmas toy for girls and boys of all ages in Suffolk.
"It's certainly quite a big gift, but it comes in surprisingly cheap at around £170,000. We've kept it wrapped for our press release photograph, however, because we don't want to spoil the surprise for so many youngsters on Christmas morning."
Staff say the toy is too big for Santa to get down the chimney, but it can be left outside in the road.
Can you guess what the mystery present is? A skateboard, perhaps? Or is it the latest Xbox? Leave your guess in on our Facebook page. The best answer will win absolutely nothing.
Meanwhile, retailers in Norfolk have confirmed that their best-sellers this Christmas continue to be the Wolf Fleece, and pairs of six-fingered gloves.