Exclusive
By Ivor Traktor
Farming Correspondent (intern)
A Suffolk farmer has transformed his old tractor into a new version of the Segway that he believes will take the country by storm.
Bill Smith, 74, cut his beloved old Massey Ferguson in half and tinkered with the mechanics to develop the all-terrain Segway, which will provide fast and safe transport around the countryside or in town centres.
The Suffolk Segway is now available at the bargain price of £7,999 and comes in four colours, so long as they are all rusty brown.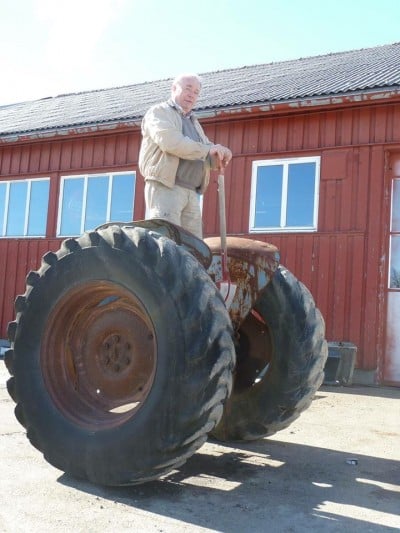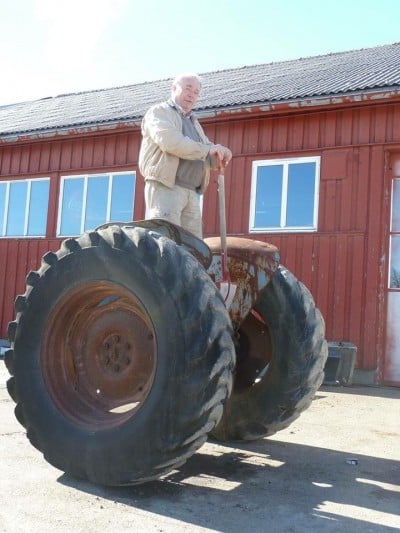 Farmer Bill Smith on board his Suffolk Segway
Mr Smith, who farms near Stoke-by-Nayland, said: "I was messing about in the workshop when my grandson started talking about wanting a Segway. He showed me a picture and I thought, 'I can do better than that'.
"So I played around with my old tractor and developed a bigger version. The wheels are so large that it would be very difficult to fall off. Also, it means the Suffolk Segway can go anywhere – up hills, through muddy fields, across streams. There's nothing it can't do."
The Suffolk Segway has a large battery, taken from the original tractor, that will provide enough power for 15 hours of carefree riding with a maximum speed of 25mph. It works by detecting any change in the centre of mass of the rider, and propels the vehicle forward or backwards as a result.
Mr Smith has already sold 72 of the Suffolk Segway machines, and admits the hardest part is finding enough old tractors to chop in half.
"It just goes to show it's never too late in life to try something new," he said.
* * * *
Like The Suffolk Gazette on Facebook now!
Please support our running costs by clicking here and buying us a beer!
Advertise on the Suffolk Gazette – click here for (very cheap) rates