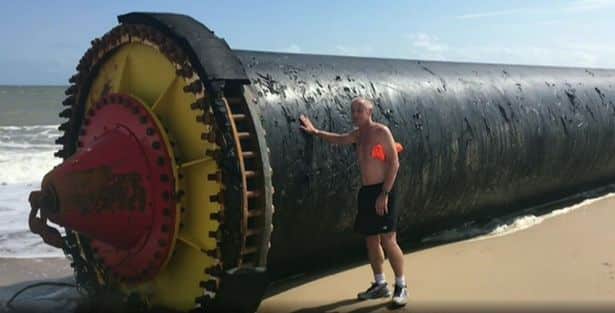 By Hugh Dunnett, Crime Correspondent
Norfolk police have been called in to calm restless locals who believe a huge washed-up pipe is a sea monster.
The massive rubber piping came loose while being towed by a ship to Algeria.
It ended up on several Norfolk beaches in massive sections up to 480 metres long and eight foot in diameter.
Terrified locals are convinced the menacing black pipes are monsters from the deep that will move inland to kill them all.
They have been fighting amongst themselves and ransacking local stores for provisions before locking themselves in their cellars.
Inspector Will Knabham, of Norfolk Police, said: "We appeal for calm in Norfolk. These are not sea monsters, at least we don't think they are.
"Even if they are, they appear to be dead, so there is no need for looting and violence. Everyone should just get back to work."
Sea monster
Local Winterton-on Sea-resident Chris George said: "There are lots of pipes, but you can count them on one hand. So six.
"The police might say they are not monsters, but we can tell they are. Or it could be witchcraft like this internet thing."
The rubber pipes were being towed from Norway, where they were built for a huge construction project in Algeria, when they came loose and landed on shore yesterday.
Pipelife, the Norwegian firm which made the pipes, urged people to keep away, warning they risked being crushed.
"See, they are bloody dangerous," added Mr George.