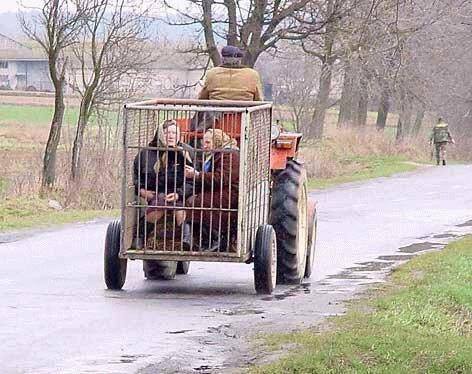 By Ian Bred, Norfolk Correspondent
A bus service has been launched to connect isolated communities in parts of rural Norfolk for the first time, operators confirmed today.
The fleet of shining vehicles each carry two passengers in a secure, air-conditioned seating area, and are capable of whizzing them from village to village inside two hours.
Up until now, it has taken women living in remote areas like Downham Market, Swaffham and Fakenham all day to fetch water from regional wells or to forage berries from far-away hedges.
But the new fleet introduced by Luxor Traction Ltd means they now have more time to attend to their other daily duties – like sweeping out their hovels.
Edna Spratt, 37, who lives near Downham Market with her brother and their nine children, said: "The new bus service is excellent. I can catch the 7.37am from the end of my track and get to Salters Lode to collect water in under two hours.
"It's then just a five-hour wait for the 2pm service back towards Downham Market. I have heard that abroad in places like Suffolk they have something called locomotives on tracks which can carry more than two people, but that sounds like the devil's work."
Luxor Traction Ltd launched its fleet of 15 buses to service most parts of rural Norfolk in recent weeks.
Company chief executive Mr John Deere said: "We are very proud to open up parts of rural Norfolk for the first time. Public transport will transform the lives of hard-working local people like Edna.
"It's taking a bit of time to catch on because these folk do not have televisions or read, so it is difficult to get the word out. But we are confident of turning a profit by 2023."
Lorraine Fisher, 34, had nothing to say about this story.