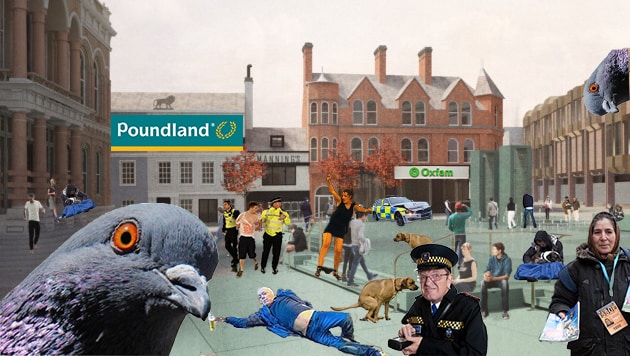 The multi-million pound revamp of Ipswich town centre is already proving a hit with locals.
No sooner had the £3.6 million project been completed than the Cornhill area became a hub of exciting activity.
[AdSense-A]
When people were not tripping over steps, they were able to admire the marvellous variety of characters that Ipswich offers.
Shopper Lorraine Fisher, 34, said: "I was worried that the street drinkers, beggars, shitting dogs and criminals would have been consigned to the history books.
"But imagine my surprise at finding they are still there, together with all the lovely pigeons.
"It's good to see the fabric of the area has not been changed."
Council executives have even included a stunning water fountain feature, which puts the display outside the Bellagio in Las Vegas to shame.
[AdSense-B]
Retail expert Steve Walshe said: "This has made a huge difference to Ipswich.
"It is surely now only a matter of time before more charity shops, mobile phone repair shops and fast-food outlets snap up the empty stores."